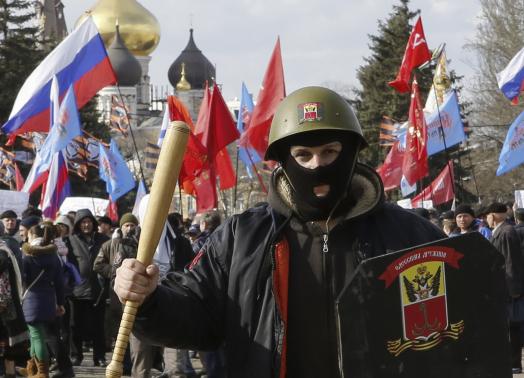 The Russian state news agency, RIA, reported the Crimean vote results are overwhelmingly in favor of breaking with Ukraine and joining Russia on Sunday.
The RIA news agency said 93 percent voted in favor of annexation, citing an exit poll released just as voting ended at 8 p.m. (1800 GMT), while Reuters reported another Russian agency claimed turnout was over 80 percent. However, PeoplesPunditDaily.com reported earlier that many ethnic Ukrainians and Crimea's large Tatar Muslim minority, were refusing to participate in the referendum.
Kiev accused Moscow of pouring forces into the peninsula and warned separatist leaders "the ground will burn under their feet."
Meanwhile, Britain has rejected Crimea's referendum vote to breakaway from the Ukraine and join Russia, denouncing it as a "mockery of proper democratic practice".
Arriving in Brussels for talks tomorrow with EU foreign ministers, Foreign Secretary William Hague said Russia must now face "economic and political consequences" for its violation of Ukrainian sovereignty and territorial integrity.
He stated, "Nothing in the way that the referendum has been conducted should convince anyone that it is a legitimate exercise. The UK does not recognise the referendum or its outcome, in common with the majority of the international community. Any attempt by the Russian Federation to use the referendum as an excuse to annex the Crimea, or to take further action on Ukrainian territory, would be unacceptable."
U.S. Secretary of State John Kerry told Moscow that Washington would not accept the outcome of the vote, which is likely to favor union with Russia for a region which has a Russian-speaking majority.
Russian Foreign Minister Sergei Lavrov asked Kerry on Sunday to convince authorities in Kiev to stop what he called "massive lawlessness" against the Russian-speaking population. In their second phone conversation in two days, Lavrov and Kerry agreed to seek a solution to the crisis by pushing for constitutional reforms in Ukraine, Russia's foreign ministry said in a statement.
However, a senior State Department official said Kerry told Lavrov that the United States would not accept the referendum result and said Russia must pull back its forces to their bases.
The White House also warned Putin that he faces international isolation that will hurt Russia's economy. "You can expect sanctions designations in the coming days," White House senior adviser Dan Pfeiffer told NBC's Meet the Press.