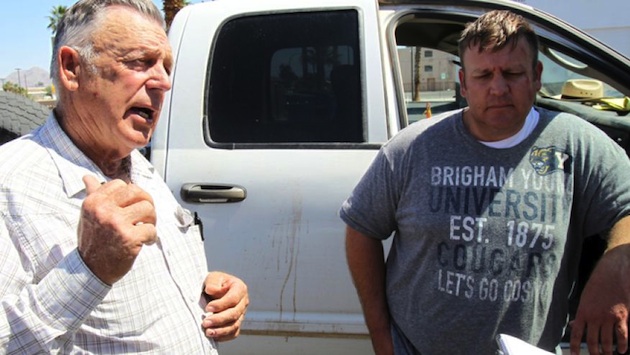 The Bureau of Land Management announced Saturday that it has ended its effort to remove "tresspasse cattle" from a Nevada ranch after a tense week-long standoff with Cliven Bundy and militia supporters.
"Based on information about conditions on the ground, and in consultation with law enforcement, we have made a decision to conclude the cattle gather because of our serious concern about the safety of employees and members of the public," the statement read.
A group of about 1,000 supporting Bundy cheered, singing "The Star Spangled Banner" following the BLM announcement.
The federal government said Nevada rancher Cliven Bundy owes them more than $1.1 million in unpaid grazing fees for allowing his cattle to graze on property his Mormon family settled in the 19th century. Supporters began to assemble at the Bundy ranch near Bunkerville, Nevada, which quickly escalated into a confrontation between civilians and armed federal agents.
Millions of Americans nationwide were astonished and angry that police from the Bureau of Land Management used stun guns on Dave Bundy, who is Cliven Bundy's adult son, during a Wednesday confrontation on a state highway near the Bundy melon farm in the Gold Butte area. The video — viewable below — went viral and mobilized an untold and unknown number of militia men throughout the West.
Senator Dean Heller and Gov. Brian Sandoval, both elected Republicans, also expressed their disapproval over with the way the BLM was conducting the roundup. After the areas were removed Thursday, Sandoval issued a new statement.
"Although tensions remain high, escalation of current events could have negative, long lasting consequences that can be avoided," it said.
The dispute began in 1993, when citing a federally protected tortoise, the Bureau of Land Management began requiring Bundy to pay for grazing rights. It was only after Mr. Bundy declined to continue to pay for future grazing right that the federal government revoked his license.
Read Outrage Over Standoff With Nevada Rancher Spreads Amid Debate Over Excessively Armed Fed Or View Video Below From CBS News: