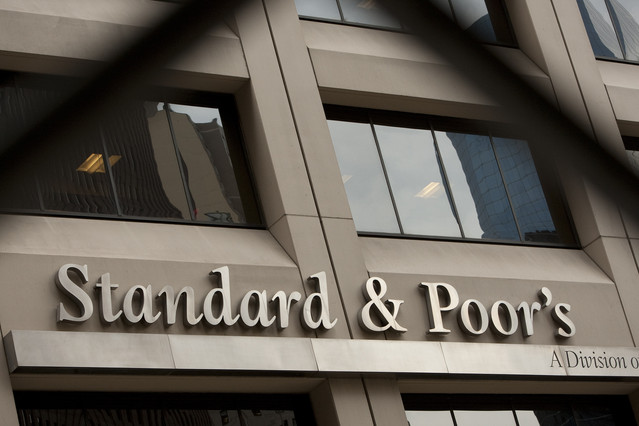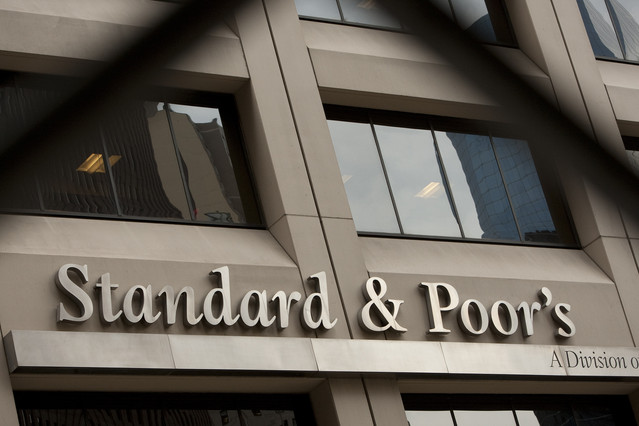 The ratings agency Standard & Poor's downgraded Russia's credit rating to just above junk status, as analysts warned the nation is appears on the brink of political and economic mayhem.
S&P downgraded Russia's credit rating from "BBB" to "BBB-," nearly junk status, and warned investors the rating could be downgraded further over the next two years if the political and economic situation doesn't improve.
The latest move from the credit ratings agency, comes as tension in eastern Europe between Russia and Ukraine continues to mount. A revolt earlier this year in Ukraine, a former Soviet satellite state, ousted President Viktor Yanukovych, a puppet of Russian President Vladimir Putin. S&P had already downgraded Russia to "negative outlook" back on March, 20.
Global markets took a beating on the news, with the Stoxx Europe 600 index falling 0.5 percent by midmorning, and earlier in the session it was trading 0.7 percent lower. It mirrored Asian stock market losses overnight. But Germany suffered far more.
Because of Germany's strong economic ties to Russia, predominantly in energy, Frankfurt's DAX fell by as much as 1.2 percent, while the U.K.'s FTSE 100 and France's CAC-40 both fell by a marginal 0.3 percent.
S&P warned "the large capital outflows from Russia in the first quarter of 2014 heighten the risk of a marked deterioration in external financing, either through a significant shift in foreign direct investments or portfolio equity investments."
The threat of Russian invasion into Ukraine appeared to be imminent earlier in the month, with most experts agreeing Putin is in no rush to invade, but due to the large Russian force is likely waiting for an opportune time. Regardless of whether or not Russia invades, the economic damage from the already-politically unstable situation is clear.
"With the Geneva agreement in tatters, events seem to be spiraling out of control in eastern Ukraine," analysts at Potomac Research Group, a Washington, D.C.-based political consultancy wrote in an email to clients Friday. "Even if Russia doesn't invade (Ukraine), the economic impact of tough new sanctions on trade could become a growing market concern."
Moscow's RTS declined by as much as 2% before bouncing back slightly.
"The downgrade, while not entirely unexpected, has nonetheless fueled further market stress," Société Générale analyst Benoit Anne wrote in a note. The ruble was beat down 0.6 percent against the dollar to 36.
Meanwhile, Secretary of State John Kerry Thursday accused Russia of "distraction, deception and destabilisation" in eastern Ukraine. Secretary Kerry said what everyone already knows, which is that US intelligence knows that Russia was "playing an active role in destabilising eastern Ukraine," supplying agitators, weapons, money and operational planning on the ground.
He added that the US was ready to impose further sanctions if Russia did not change course.
On the commodities front, gold was again trading around 0.4 percent higher, up to $1,295.70 a troy ounce, while Brent Crude oil continued its day=long decline by 0.4 percent to $109.89 per barrel.