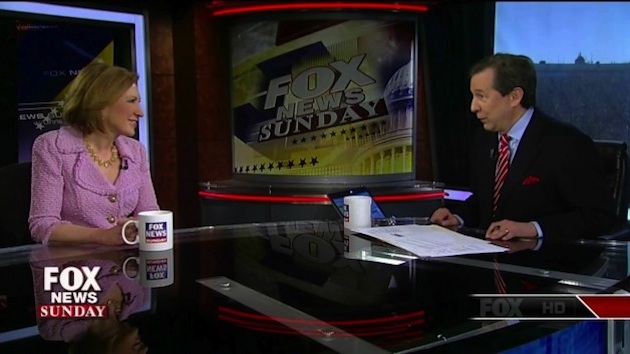 Carly Fiorina, the former Hewlett-Packard CEO and Republican nominee for the U.S. Senate from California in 2010, says the chance of her running for president in 2016 is "higher than 90 percent."
When asked by host Chris Wallace on Fox News Sunday, "What are the chances that you're going to run for president?" Fiorina responded, "Very high."
Fiorina has taken every opportunity to slam likely Democratic contender Hillary Clinton while speaking at the Iowa Freedom Summit and Conservative Political Action Conference, among other venues. The successful Republican businesswoman frequently compares her own extensive travel around the world to Clinton's record-breaking travel tenure at the State Department, but notes that she actually accomplished something to show for all those hours and frequent flyer miles.
"You're a former businesswoman," Wallace said. "Give me a number."
"Higher than 90 percent," Fiorina responded, noting that she would "probably" announce in "late April, early May."
As of now, Fiorina is polling at "–" percent, given pollsters have yet to include her in the crowded, deep 2016 GOP bench.