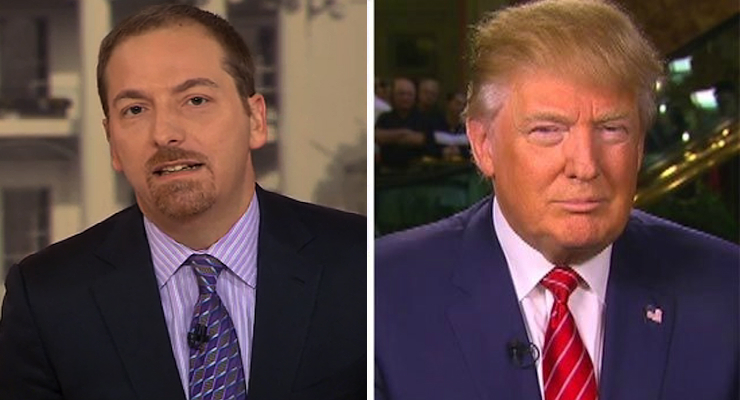 Donald Trump told "Meet the Press" host Chuck Todd on Sunday he was not taking back his comments that American Muslims in New Jersey were cheering after September 11, 2001.
Todd repeatedly grilled Trump for saying last week "thousands and thousands" of Muslims in Jersey City, NJ, celebrated the World Trade Center attack. In fact, Todd spent more than half of the interview questioning and even rejecting Trump's claim.
"You demand and you've demanded of me pinpoint accuracy when I report on things about you, including, for instance, your net worth," Todd said in his very first question of the interview. "Why shouldn't we demand the same pinpoint accuracy in the claims that you make?"
Trump didn't back down, instead pointing to the calls, emails and tweets he has received from supporters backing up his claim.
"I saw it. So many people saw it … So, why would I take it back? I'm not going to take it back."
As someone who lived in New Jersey during the attack and, unfortunately, lost family on that day, there is no doubt that American Muslims in the region were celebrating the attacks. However, the video footage of "thousands and thousands" in widespread celebration was in the Middle East, including Palestine, Iran and Pakistan. Outward celebration was quickly shot down in Jersey after most communities began to realize the gravity of their own situation in a post-September 11 America.
"Chuck, you have a huge Muslim population over there. And that's fine. But you have a huge Muslim population. … Why wouldn't it have taken place?" Trump asked. "I've had hundreds of people call in and tweet in on Twitter, saying that they saw it, and I was 100% right."
The "Meet the Press" host questioned whether Trump should really cite tweets as evidence.
"You wouldn't make a business deal based on retweets and based on hearsay. You're running for president of the United States," Todd said. "Your words matter. Truthfulness matters. Fact-based stuff matters. No?"
Trump fired back, making Todd look like he was coming unhinged, which in reality, he was.
"Take it easy, Chuck. Just play cool," Trump replied. "This is people in this country that love our country that saw this, by the hundreds they're calling, and they're tweeting. And there's a lot of people."
Trump added: "I have a very good memory. I saw it somewhere on television many years ago and I never forgot it."