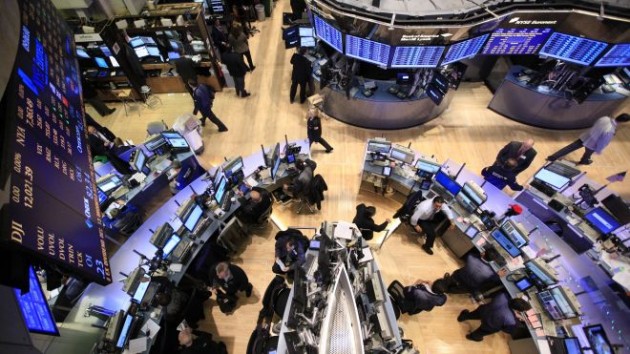 U.S. markets opened in the red on Friday after disappointing earnings from companies such as Amazon.com, and weak housing market from the day before weighed down traders.
Investors didn't respond positively to stronger-than-expected orders for durable goods, which were released before the opening bell.  The Commerce Department reported orders for long-lasting goods climbed 0.7 percent in June from March, beating estimates of a 0.5 percent increase
The S&P 500 opened 9 points, or 0.4 percent lower at 1,980.96, falling off from the record close reached on Thursday, while the Dow Jones Industrial Average shed 117 points, or 0.7 percent to 16,965.02 at the opening bell.
The Nasdaq Composite opened 30 points lower, or 0.7 percent at 4,441.20, hurt by Amazon.com and Pandora, both tumbling 12%.
Follow MarketWatch's live blog of today's stock-market action.
Investors were disappointed with Amazon.com(NASDAQ:AMZN) and a wider-than-expected second-quarter loss late Thursday. Shares plunged 11%. Also read: Is Amazon spending like a drunken sailor?
Pandora Media (NYSE:P) fell a whole 9 percent on larger-than-expected losses reported late Thursday.
Starbucks Corp.(NASDAQ:SBUX) hit the bricks as another top loser, down 3 percent at the open. The company posted a 22 percent profit increase and lifted its outlook, but many view the company's 2015 outlook as cautious.
Shares of Xerox (NYSE:XRX) also fell 2.7 percent, as second-quarter earnings fell in large part due to revenue from its document-technology business coming up short.
The day's trading debuts include fast-food chain El Pollo Loco(LOCO), which priced shares at $15, the top of the range.
Investors will also closely watching Cynk Technology (OTCMKTS:CYNK), which will begin trading again after the Securities and Exchange Commission suspended trading in the stock earlier this month.