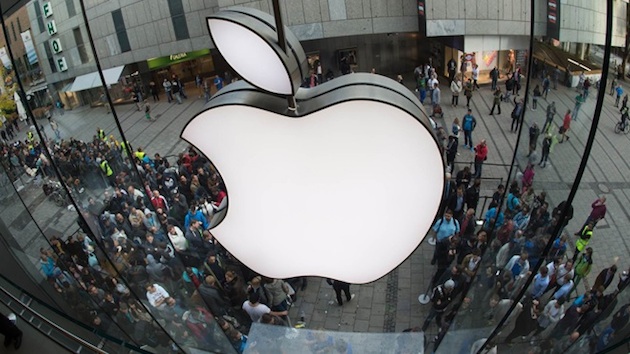 Apple (NASDAQ:AAPL) posted fourth-quarter earnings that easily topped Wall Street estimates, as earnings rose 13 percent fueled by the release of new iPhone devices.
The tech giant said Monday after the closing bell that its profit increased to $8.47 billion from $7.51 billion in the prior year. On a per-share basis, earnings clocked in at $1.42 juxtaposed to $1.18 when adjusted for Apple's recent stock split.
Revenue grew a whopping 12 percent to $42.12 billion, blowing Wall Street's estimate of $39.85 billion, while experts were looking for earnings of $1.31 a share.
Apple shares increased 1.1 percent to $100.85 in after-hours trading. Experts remain bullish on the stock still.
In a research note to clients earlier Monday, analysts at Cantor Fitzgerald said Apple shares are still undervalued and could a bigger bump when the tech giant enters a new product category early next year with its announced Apple Watch.
Cantor Fitzgerald believes "Apple is in the midst of another 'super cycle'" given the new watch, the launch of Apple Pay and the company's entry into large smartphones, the analysts wrote in a separate note.
The investment firm also noted fears around Apple's position in the smartphone market have eased.
Apple is looking to hold off Samsung Electronics and other competitors with a new mobile feature Apple Pay, which launched Monday at 220,000 stores. McDonald's (NYSE:MCD), Walgreens (NYSE:WAG) and ticket seller StubHub are among the early adopters of the new payment service. Visa (NYSE:V), MasterCard (NYSE:MA) and American Express (NYSE:AXP), plus the top six card issuers, also joined the program.
Apple launched the iPhone 6 and iPhone 6 Plus on Sept. 19, before the end of the company's fourth quarter. More than 10 million units were sold in the first weekend, alone, which set a new record for the iPhone.
Fourth-quarter iPhone sales jumped to approximately 39.3 million units versus 33.8 million a year earlier.