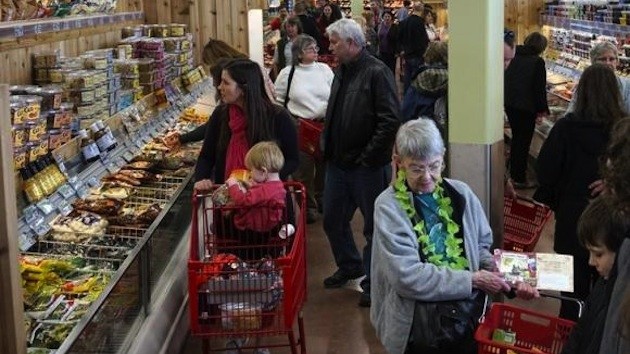 U.S. consumer sentiment increased less-than-expected ahead of late November's pivotal holiday shopping season, but still hit its highest level in more than seven years. The Thomson Reuters/University of Michigan's final November reading on the overall index on consumer sentiment came in at 88.8, its highest reading since July 2007 on a final basis. The reading was up from the 86.9 the month before but slightly below the preliminary reading of 89.4.
Despite the uptick, it was still below the median forecast of 90.0 expected from economists polled by Reuters.
"Consumers more frequently reported hearing about positive rather than negative economic developments in the November survey, with reports of improving employment the dominant news item," survey director Richard Curtin said in a statement.
"While there was no change in evaluations of the current performance of the economy or the year-ahead outlook – both remained at positive levels – the longer term economic outlook improved substantially."
The survey's barometer of current economic conditions rose to 102.7 from 98.3, which was also slightly below the forecast of 103.0, while the survey's gauge of consumer expectations edged up to 79.9 from the 79.6 in October. The latter measurement also fell short of expectations, as economists forecast 80.8.
The survey's one-year inflation expectation slipped to 2.8 percent, the lowest year-ahead inflation rate expected since October 2010, from the 2.9 percent in the prior month. The survey's five-to-10-year inflation outlook was at 2.6 percent from 2.8 percent in October.
The index, while widely cited, doesn't comport with all the economic tracking data released this week.
Gallup found a majority — 54 percent — report that they have spent or plan to spend roughly the same amount on gifts as they did last year. However, 29 percent reported planning to spend less, while 18 percent plan to spend more this holiday season. These numbers are less optimistic than what Gallup found in October.
The Rasmussen Consumer Index, which measures consumer confidence on a daily basis, was steady this Wednesday at 105.4. While consumer confidence was up 3 points from one week ago and up 7 points from a month ago, it remained flat from 3 months ago.
Further, despite the increased positive outlook in the Thomson Reuters/University of Michigan survey, Rasmussen found nearly 40 percent of Americans believe the U.S. economy is in a recession.
The Rasmussen Investor Index went up 3 points at 122.8 on Wednesday. Investor confidence is up 5 points from a week ago and up 11 points from a month ago. It is down 1 point from 3 months ago.
Meanwhile, the Commerce Department reported Wednesday that consumer spending rose 0.2 percent in October, which was slightly below the 0.3 percent expected. Personal income for the month rose 0.2 percent, also below economists' expectations for a 0.4 percent increase.