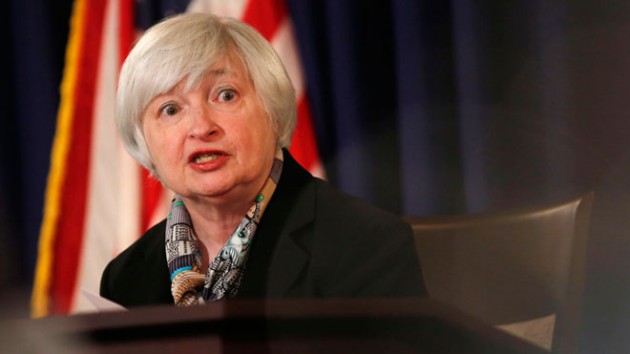 BREAKING & DEVELOPING: Following its two-day policy meeting, the Federal Open Market Committee (FOMC) renewed its vow to hold rates low 'for a considerable time' despite speculation by many economists that the phrase would be taken out.
Wall Street jumped after the announcement, as news of fast and loose money giving investors more opportunity to inflate equity prices send indexes higher. The Dow Jones Industrial Average jumped 257 points, or 1.5 percent to 17329, while the S&P 500 increased 34 points, or 1.72 percent to 2006. Meanwhile, the Nasdaq jumped 67 points, or 1.48 percent to 4615. All 10 S&P 500 sectors were in the green.
The Fed decided to end its bond-buying program known as quantitative easing in October, and most analysts have interpreted the "considerable period" to end in mid-2015. Fed policy-makers have sent signals to the markets that the phrase could be replaced with an even more vague single-term — "patience."
The FOMC policy-makers met on Tuesday and Wednesday this week and held a 2 P.M. ET Wednesday, during which Fed Chair Janet Yellen announced the Fed is inclined to be patient. Yellen said the central bank will continue to closely monitor economic data as it prepares to raise rates.
The Labor Department said Wednesday that U.S. consumer prices saw their biggest drop in nearly six years in the month of November fueled by falling gasoline prices. The Consumer Price Index fell 0.3 percent last month, which is the largest decline since December 2008, after a flat reading in October.
However, the report has done nothing to change views at the Federal Reserve, which will not likely start raising interest rates in mid-2015. The Federal Reserve has set a target of 2 percent for inflation, but it tracks an index that is currently measuring even lower than the CPI.