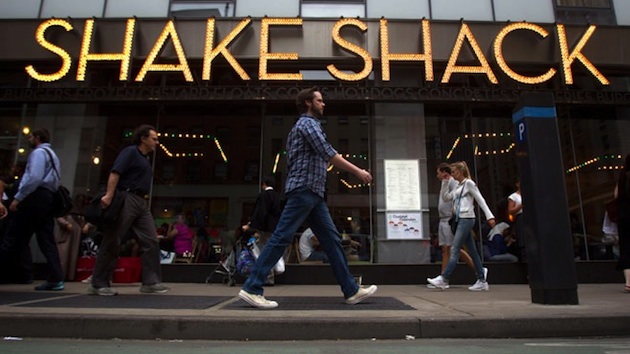 The New York-based burger chain Shake Shack filed for an IPO (initial public offering) to list on the New York Stock Exchange under the ticker symbol SHAK.
The company used $100 million as a placeholder for calculating registration fees, but will likely adjust the offering as the IPO gets underway. The company wrote in its filing that total revenue for its three fiscal years ending December 2013 increased from $19.5 million to a whopping $82.5 million.
The move comes just a few short months after rumors of an IPO from the restaurant chain began to spread.
The company began as a hot dog cart aiming to raise money for rejuvenation efforts of Madison Square Park. Shake Shack CEO Randy Garutti said plans were never made to make it into a lasting business endeavor, but because of the unexpected level of success, he and Union Square Hospitality Group's Danny Meyer, decided to take the hot dog cart and make it a permanent fixture of the park.
Shake Shack now operates 63 restaurants, with 31 company-operated restaurants in the U.S., five domestic licensed locations, and 27 international licensed Shake Shack restaurants.
Among the major underwriters of the offering are JPMorgan Chase (NYSE:JPM), Morgan Stanley (NYSE:MS) and Goldman Sachs (NYSE:GS).