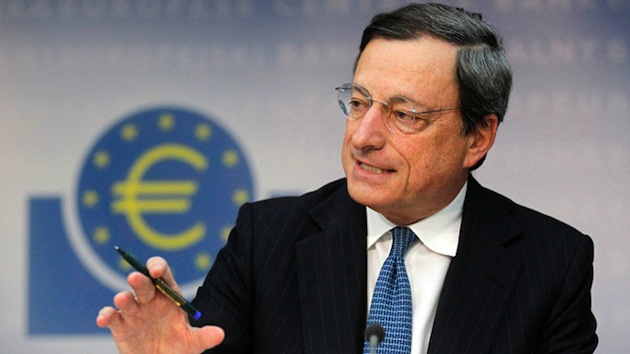 European Central Bank President Mario Draghi said at a press conference Thursday that the ECB will launch a historic quantitative easing (QE) program. The asset purchase program will include asset-backed securities and covered bonds that total 60 billion euros per month through at least September 2016.
Draghi's announcement, which came just hours after the ECB said it will keep its benchmark refinancing rate unchanged at 0.05 percent, as expected, reflects an effort to jumpstart the eurozone economy and address growing deflation fears. The purchases are set to start in March and will include investment-grade euro area government debt, among other instruments.
"The combined monthly purchases of public and private sector securities will amount to 60 billion euros," Draghi told a news conference. "They are intended to be carried out until end-September 2016 and will in any case be conducted until we see a sustained adjustment in the path of inflation."
Because bonds will be purchased on the secondary market in proportion to the ECB's capital key, the largest economies from Germany on down will have their debt purchased by the ECB more than smaller economies
"The ECB should have already embarked on QE," said former ECB policymaker Athanasios Orphanides, a longtime proponent of the plan. "Now that the situation has deteriorated, the ECB will have to do much more."
The euro (EURUSD) fell on the heels of the news, as did bond yields in Italy, Spain and Portugal. But European shares increased.
Germany, who has been carrying the eurozone nearly single-handily, remains in the dissent. French Finance Minister Michel Sapin, while in Berlin, shot back at German criticisms over the loose and easy money policy.
"The Germans have taught us to respect the independence of the European Central Bank," he told France Info radio. "They must remember that themselves."
While Draghi said 20 percent of the asset purchases would be subject to risk-sharing, which indicated the majority of potential losses will hit national central banks, critics say the eurozone's risk-sharing philosophy has been a failure.
And that isn't just coming from Germany.
"It is a mistake to suppose that QE is a panacea in Europe or that it will be sufficient," former U.S. Treasury Secretary Larry Summers, who resigned from the Obama administration amid loose money policy, said at the World Economic Forum in Davos on Thursday.
Summers has since written reviews at Princeton researching why the stimulus plan passed by the Democratic Congress in 2009 did not work.