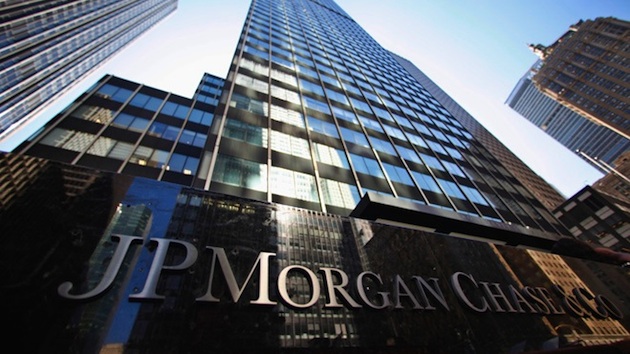 JPMorgan Chase & Co (NYSE:JPM), the largest U.S. bank by assets, posted a better-than-expected quarterly profit on Tuesday fueled in part by gains in fixed-income revenue trading. The bank's net income rose to $5.91 billion, or $1.45 per share, in the first quarter ended March 31, from $5.27 billion, or $1.28 per share, a year earlier.
Analysts had forecast earnings of $1.40 per share, according to Thomson Reuters I/B/E/S.
Revenue from trading fixed income, currencies and commodities (FICC) rose 5 percent to $4.07 billion, adjusted for the sale of businesses last year, including a physical commodities operation.
"Asset Management had $16 billion of net long-term inflows, generated strong investment performance and continued to grow loan and deposit balances," Jamie Dimon, JP Morgan Chairman and CEO said.
The bank's shares rose about 1 percent to $62.70 in premarket trading on the news, which shows across-the-board strength. Consumer and Business Banking also rose by 9 percent.
"Consumer & Community Banking saw healthy growth in deposits, investment assets and loans and continued to deepen relationships – winning four TNS Choice Awards in 2015, including #1 in consumer retail banking nationally for the third consecutive year," Dimon added. "In Mortgage, we had higher originations and continued to add high-quality loans to our balance sheet while managing expenses."
JPMorgan's investment bank, which includes FICC trading, is the biggest in the world by revenue according to research firm Coalition. But the unit has been under pressure to cut costs because customers have reduced their trading since the financial crisis and regulators have demanded that big banks take fewer risks, hold more capital and improve controls.
The Corporate & Investment Bank maintained its #1 ranking in Global IB fees with strong fees across products, and 100 bps of market share gains over the last year," Dimon said. "The Markets business saw an increase in activity in both Fixed Income and Equity Markets."
JPMorgan is the first of the large U.S. banks to report quarterly results. Overall, results are expected to show that trading profit, debt underwriting fees, and mortgage refinancing volumes were strong, even as low interest rates cut into the profitability of loans.
The results for the latest quarter included an after-tax charge of $487 million for legal expenses.
Non-interest expenses in the bank's investment banking division rose to $5.66 billion from $5.60 billion.
JPMorgan has been gearing up to cut annual expenses in its investment bank by $2.8 billion by 2017, excluding legal costs, though some of the savings are expected to be offset by more spending on measures to improve risk controls.
Company-wide expenses, adjusted for legal costs, fell by $402 million to $14.2 billion, while provision for credit losses increased 12.8 percent to $959 million.
The bank's net interest margin fell to 2.07 percent from 2.20 percent as banks continue to increase profits in a low rate environment.
JPMorgan's return on tangible common equity was 14 percent in the quarter, just 1 percent shy of it's longer-term target and a gain from 13 percent a year earlier.
"JPMorgan Chase continues to support consumers, businesses and communities and make a significant positive impact," Dimon concluded. "We have an outstanding franchise which is getting safer and stronger, and is gaining market share over time. We continue to build the company for the long-term, we are investing in controls, infrastructure, systems, technology, new products and bankers. We will continue to navigate challenges and deliver for our clients, shareholders and communities."