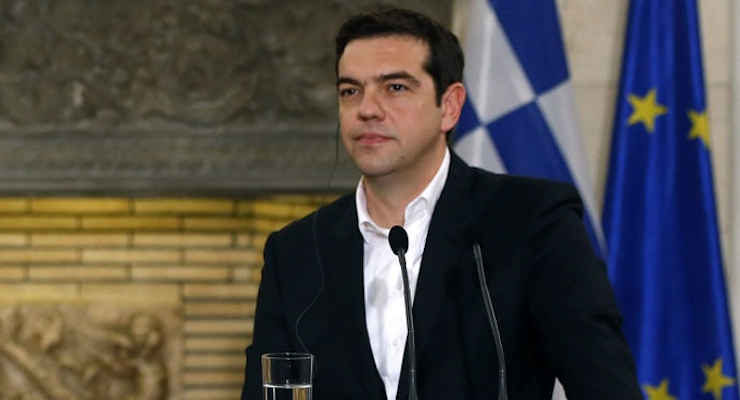 Less than 24 hours after Greece became the first country in the modern developed world to default on its debt, the socialist leader caved on key demands. In a letter to Greek creditors sent late Tuesday, Prime Minister Alexis Tsipras indicated that he was willing to accept several keys components of a deal that he had rejected in recent days.
Investors continue to monitor developments out of Greece, as well as recent economic data. But the news helped to send markets higher Friday afternoon.
As of 1:10 p.m. ET, the Dow Jones Industrial Average rose 78 points, or 0.45% to 17698. The S&P 500 added 7 points, or 0.34% to 2070, while the Nasdaq Composite climbed 8 points, or 0.17% to 4995.
The letter, which was first obtained by the Financial Times, requests an extension of the country's expired bailout program and a new loan program, worth just short of 30 billion euros. Among the revisions requested by Tsipras are a delay in implementing pension reforms, cutting military spending in 2017 instead of this year, and granting Greek islands a 30 percent discount on the country's VAT, or value-added tax.
Overseas markets also saw a bounce on Wednesday amid optimism over a Greek debt deal. The Euro Stoxx 50, which tracks large-cap stocks in the eurozone, surged 2.10% to 3496. Meanwhile, the German Dax jumped 2.15% to 11180, the French CAC 40 jumped 1.94% to 4883, and the UK's FTSE 100 rose 1.24% to 6601.
In Asia, the Shanghai Composite, which fell into bear-market territory this week, dropped 5.23% to 4053. Hong Kong's Hang Seng rose 1.79% to 8058, while Japan's Nikkei saw a 0.46% tick higher to 20329.
In currencies, the euro fell 0.69% against the U.S. dollar.
Still, officials said the new terms in the letter were insufficient to bring them back to the negotiating table before Sunday's referendum. Greece is scheduled to carry out a referendum Sunday on whether to accept a proposal of reforms offered by the country's creditors.
On Wednesday, German Chancellor Angela Merkel was clearly unwilling to back down from the initial proposal or to agree to the Greek requests for concessions. Thousands of Greek citizens gathered in Athens to protest the prime minister — with many calling for his removal — and to stand in support of the European Union.
"With the expiration of the program, the basis for the offer has been removed," Merkel said, referring to the expiration of the bailout program.