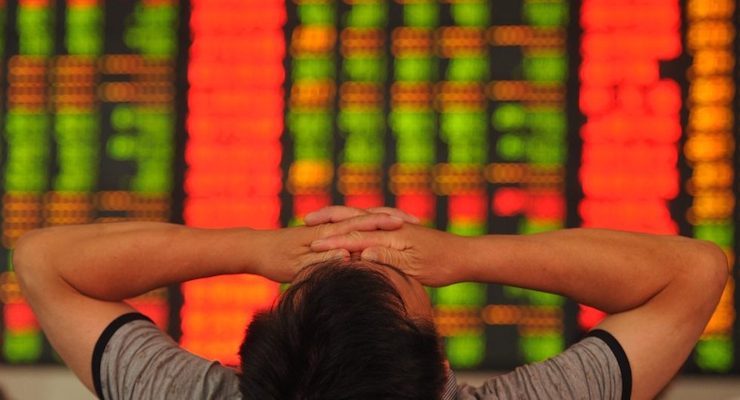 When I first got to Washington in the mid-1980s, one of the big issues was the supposedly invincible Japanese economy. Folks on the left claimed that Japan was doing well because the government had considerable power to micro-manage the economy with industrial policy.
With the benefit of hindsight, it's now quite apparent that was the wrong approach.
In more recent years, some on the left have praised China's economic model. And while it's true that the country has enjoyed strong growth, it's far from a role model.
Here's some of what I wrote back in 2010.
Yes, China has been growing in recent decades, but it's almost impossible not to grow when you start at the bottom – which is where China was in the late 1970s thanks to decades of communist oppression and mismanagement. …This is not to sneer at the positive changes in China. Hundreds of millions of people have experienced big increases in living standards. Better to have $6,710 of per capita GDP than $3,710. But China still has a long way to go if the goal is a vibrant and rich free-market economy. The country's nominal communist leadership has allowed economic liberalization, but China is still an economically repressed nation.
With my skeptical view of the Chinese economic system, I figured it was just a matter of time before the nation experienced some economic hiccups.
And the recent drop in the Shanghai stock market certainly would be an example. I discussed the topic earlier this week in this Skype interview with Blaze TV.
To elaborate, there's no precise formula for determining a nation's prosperity. After all, economies are not machines.
But there is a strong relationship between prosperity and the level of economic freedom.
And as I explained earlier this year, China's problem is that government is still far too big. As such, its overall ranking from Economic Freedom of the World is still very low.
And this means that the Chinese people – while much better off then they were under a pure communist system – are still not rich.
I mentioned the comparative numbers on per-capita economic output in the interview, which is something I wrote about back in 2011. And you can click hereif you want the underlying figures to confirm that Americans are far more prosperous.
By the way, this is an issue where the establishment seems to have a semi-decent understanding of what's happening, even if they don't necessarily draw any larger lessons from the episode.
The Associated Press, for instance, has a good report on the issue. Here's some of the story, which looks at why the the stock market seems untethered from economic fundamentals.
When China's economy was roaring along at double digit rates in the 2000s, Chinese stocks floundered. But starting in the summer of 2014, as evidence of an economic slowdown gathered, the Shanghai Composite index climbed nearly 150 percent. …Now the Chinese stock bubble has burst and Shanghai shares are in a free fall. They've lost about 30 percent since peaking last month. …Prices in the stock market are supposed to reflect business realities: the health of the economy, the quality of the companies listed on stock exchanges, the comparative allure of alternative investments. But in a communist country where the government plays an oversized role in the economy, investors pay more attention to signals coming from policymakers in Beijing than to earnings reports, management shake-ups and new product announcements.
If savvy investors think it's important to focus on what the government is doing, that's obviously bad news.
During the booming 2000s, only politically connected firms were allowed to list on stock exchanges for the most part. Many of them were run by insiders of dubious managerial talent. The markets were dominated by inefficient state-owned companies. Investors were especially wary of investing in big government banks believed to be sinking under the weight of bad loans. Stocks went nowhere.
And when the government started to encourage a bubble, that also wasn't a good idea.
…state media began encouraging Chinese to buy stock, even as the country's economic outlook dimmed. The economy grew 7.4 percent last year, the slowest pace since 1990. It's expected to decelerate further this year. But authorities allowed investors to borrow to buy ever-more shares. Unsophisticated investors — more than a third left school at the junior high level — got the message and bought enthusiastically, taking Chinese stocks to dangerous heights. Now it's all crashing down.
I'm not sure "all crashing down" is the right conclusion.
As I said in the interview, the market doubled and now it's down about 30 percent, so many investors are still in good shape.
That being said, I have no idea whether the market will recover, stabilize, or continue to drop.
But I do feel comfortable making a larger point about the relationship between economic freedom and long-run prosperity.
So if you want to learn lessons from East Asia, look at the strong performances of Hong Kong, Taiwan, Singapore, and South Korea, all of which provide very impressive examples of sustained growth enabled by small government and free markets.
P.S. I was greatly amused when the head of China's sovereign wealth fundmocked the Europeans for destructive welfare state policies.
P.P.S. Click here if you want some morbid humor about China's pseudo-communist regime.
P.P.P.S. Though I give China credit for trimming at least one of the special privileges provided to government bureaucrats.