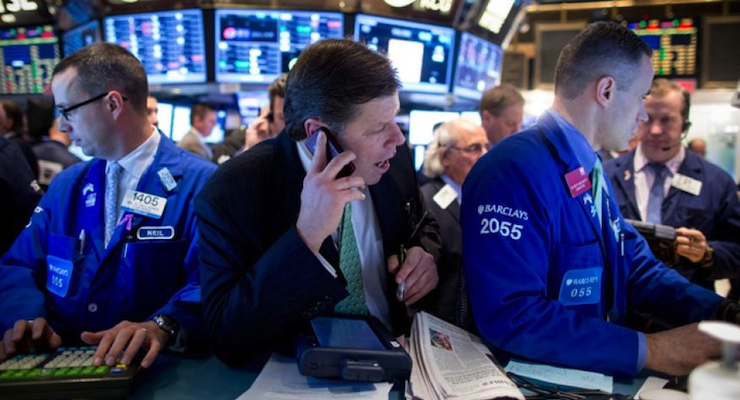 Wall Street closed slightly higher Friday as markets modestly bounced back from a tumultuous start this week amid investors' worries about China.
The Dow Jones Industrial Average (INDEXDJX:.DJI) closed out the day 69 points up, or 0.4 percent at 17477. The S&P 500 (INDEXSP:.INX) inched up 8 points, or 0.39 percent to 2091, while the Nasdaq Composite (INDEXNASDAQ:.IXIC) gained 14 points, or 0.29 percent to 5048.
While China's economic slowdown continues to top the list of Wall Street's streets concerns, domestic investors had their own mixed economic data sets to digest.
The Labor Department said Friday the Producer Price Index (PPI) showed wholesale inflation increased by 0.2 percent in July, beating median forecasts for a 0.1 percent gain. Excluding the volatile food and energy components, prices increased 0.3 percent, also slightly exceeding economists' expectations for a 0.1 percent gain. The report comes as investors in the U.S. and around the world await the Federal Open Markets Committee meeting next month.
"With today's PPI…and crude oil falling near $5 since the start of the month, lack of inflation may be the Fed's best argument to postpone hiking interest rates," Larry Shover, chief investment officer at Solutions Funds Group said. "Over the past six months, market expectations for future Fed rate increase have been lowered by approximately 25 basis points across the Fed funds curve."
Most expect the Federal Reserve to begin hiking short-term interest rates. But without continuously positive economic data, some on Wall Street question whether the Fed will move ahead in mid-September, as is expected. The University of Michigan said Friday their consumer sentiment gauge fell to 92.9 in August from a final reading of 93.1 in July, missing Wall Street expectations of 93.5.
"Consumer confidence was virtually unchanged in early August from the July reading, marking its highest nine month average since 2004. Renewed strength in personal finances largely offset slight declines in prospects for the national economy and buying conditions," said Surveys of Consumers' chief economist Richard Curtin. "The declines in prospects for the economy probably reflect the expected increases in interest rates, while the eventual but small impacts from falling commodity prices, the devaluation of the renminbi, and a weaker global economy have yet to occur (other than from declines in oil prices)."
Meanwhile, U.S. crude oil prices hovered near a six-and-a-half year low on Friday also fueled by worries about weakening global growth and China's currency devaluation. U.S. prices experienced the longest losing streak since the beginning of the year, losing previous gains for seven weeks. U.S. crude closed 0.6 percent higher at $42.50 a barrel, while Brent, which serves as the international benchmark, shed 1.6 percent to $48.82.
Gold closed down 0.26 percent to $1,112 a troy ounce, while copper declined 0.17 percent to $2.35 a pound.