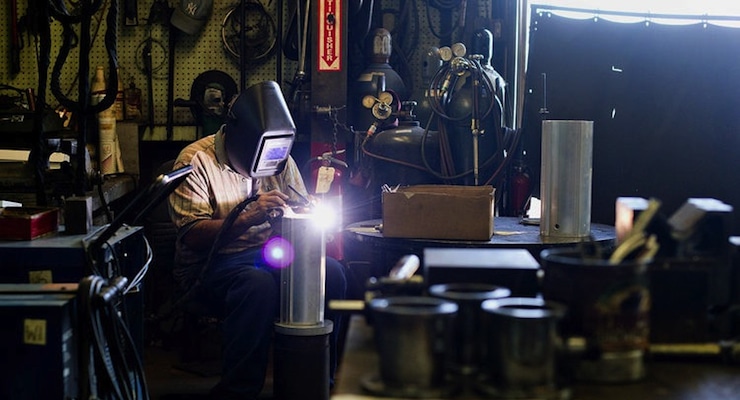 Without Tax and Regulatory Reform, Manufacturing and Other High-Paying Sectors are Unlikely to Make Meaningful Recoveries
The month of September was an all-around disappointing month for the U.S. manufacturing sector, in which we have observed a 7-year decline that has pounded workers' wages. Absent dramatic tax and regulatory reform, longer-term trends suggest there is a real danger the sector is unlikely to make any meaningful recovery.
In September, regional manufacturing indexes all showed contraction, with the national ISM survey coming in at a level barely above growth. The Institute for Supply Management's Manufacturing Report On Business Survey released Thursday slowed to its lowest level since May 2013. The gauge of national factory activity fell to 50.2 from 51.1 the month before, just above the threshold for growth. The ISM report was the latest in a string of disappointing manufacturing data released for the month.
The Chicago Business Barometer, the Institute for Supply Management-Chicago's gauge of Midwest manufacturing activity, fell into contraction at 48.7, down from 54.4 the month prior. Economists polled by Reuter expected a decline only to 53, which is still above contraction. The Commerce Department reported on Thursday the week prior that new orders for long-lasting manufactured durable goods fell 2%. The durable goods report came after two closely-watched surveys of regional manufacturing activity also indicated contraction last month.
The Philadelphia Federal Reserve's regional Manufacturing Business Outlook Survey for the mid-Atlantic tanked to -6, down from 8.3 the month prior. The Fed's reading came in far below economists' expectations for a drop to positive 6. The report marked the second major regional manufacturing survey released that week showing the sector contracting. The New York Federal Reserve's Empire State Manufacturing Survey out the day before showed regional manufacturing activity contracted for a second straight month, remaining well below zero at -14.7. Steep declines were reported for both orders and shipments, with the new orders index tanking to -12.9 and the shipments index falling -8.0, respectively.
Weakness in the manufacturing sector has contributed to the concerning trends screaming in the Bureau of Labor Statistics September jobs report, which was released by the Labor Department on Friday. The U.S. economy added only 142,000 jobs and the number of Americans in the labor force fell to the lowest level since October 1977.
The civilian labor participation rate declined to 62.4%, a clear sign that discouraged job seekers, of which there were 635,000, are no longer even looking for work. The jobs report showed the smallest number of men ever are currently participating in the labor force, an obvious but partial result of a continuously weak manufacturing sector. The more important but less-cited employment-population ratio also fell to 59.2% in September, and has shown zero movement–let alone improvement–for the first 8 months of the year.
Even more concerning, average hourly earnings (wages) actually fell to $25.09 per hour after seeing an increase of 9 cents per hour in August. While many economists were hopeful the August increase represented an upward trend in wage growth, it was apparently temporary and gave way to pressure from established negative trends in higher-paying sectors such as manufacturing and energy. Wage growth has been a key indicator for the Federal Reserve, which is weighing the timing and trajectory of an expected rate hike later this year. The Fed policy-making members at the Federal Open Markets Committee (FOMC) were looking for signs of sustained growth in the U.S. economy, but they clearly didn't get it in September.
In theory and historically, wages increase on simple supply and demand. If more people are working, then it is harder for employers to fill openings. Thus, they are forced to raise wages to compete to fill empty positions. But that isn't happening, at all. The higher-wage paying sectors continue to trend poorly amid overly burdensome government regulations and the highest corporate tax rates in the developed world. Employment in mining, as well, continued to decline (-10,000), with losses concentrated in support activities for mining (-7,000). Mining employment has declined by 102,000 since December 2014.
Meanwhile, job creation numbers for the summer months were revised downward from the Labor Department's initial reporting. The number of jobs created in July was initially reported at 245,000 but was revised downward to 223,000, while August was revised from 173,000 to 136,000. With these new revisions, job gains in July and August combined were a whopping 59,000 less than initially reported. Further, job gains have averaged just 167,000 per month over the past 3 months, well below the historical averages and the 250,000 needed to simply keep pace with population growth.
The good news is nearly all of the top Republican presidential candidates have introduced serious tax reform proposals that experts agree will foster an economic boom and create an environment far more friendly to U.S. manufacturing companies. Billionaire real estate mogul and current frontrunner Donald Trump was the latest to put a plan forward to increase U.S. companies' abilities to compete globally, though we have also analyzed plans put forth by Gov. Jeb Bush, Marco Rubio and Rand Paul..
"If we compare what he's proposing to what we have now, the answer is easy," says CATO economist and PPD contributor Dan Mitchell. "Trump's plan is far better than the status quo."