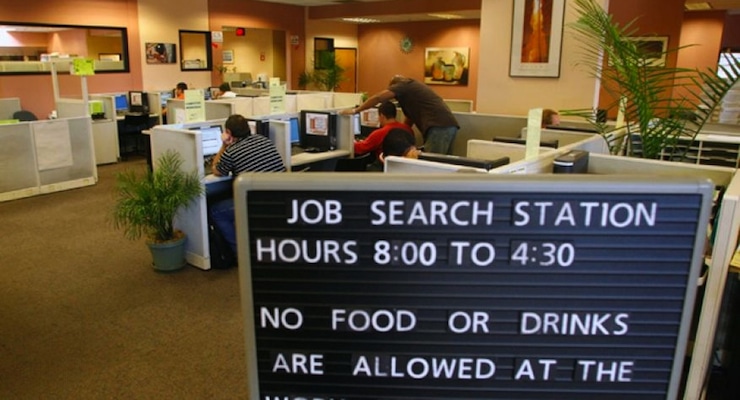 The Labor Department reported Friday the U.S. economy added 255,000 jobs in July, beating the median forecast for 180,000. The unemployment remained at 4.9%. The rate was expected to tick lower to 4.8%.
Meanwhile, the labor force participation rate, at 62.8%, and the employment-population ratio, at 59.7%, were unchanged in July.
In July, the Bureau of Labor Statistics said 2.0 million persons were marginally attached to the labor force, which has not improved from a year earlier. These are Americans who were not in the labor force, wanted and were available for work, and had looked for a job sometime in the prior 12 months but are not counted as unemployed because they had not searched for work in the 4 weeks preceding the survey.
The number of long-term unemployed–those jobless for 27 weeks or more–was about unchanged at 2 million over the month and represented 26.6% of the unemployed. Wages also continued to struggle, though there were marginal increases.
In July, average hourly earnings for all employees on private non-farm payrolls increased by just 8 cents to $25.69. Over the year, average hourly earnings have risen by 2.6%. Average hourly earnings of private-sector production and nonsupervisory employees increased by just 7 cents to $21.59 in July.
One of the major reasons wages have been stagnant is the quality of jobs being created. Employment in mining continued to trend down over the month (-6,000) and the industry has fallen by 220,000 since September 2014, or 26%. Employment in other higher-paying major industries, to include construction, manufacturing, wholesale trade, retail trade, and information, showed no change over the month.
However, employment in leisure and hospitality added 45,000, while food services and drinking places added 21,000. This industry has added an average of 18,000 jobs per month thus far this year, compared with an average monthly gain of 30,000 in 2015. The service sector has led the way on job creation, including health care employment (+43,000),  ambulatory health care services (+19,000), hospitals (+17,000), and nursing and residential care facilities (+7,000).
Over the past 12 months, health care has added 477,000 jobs.