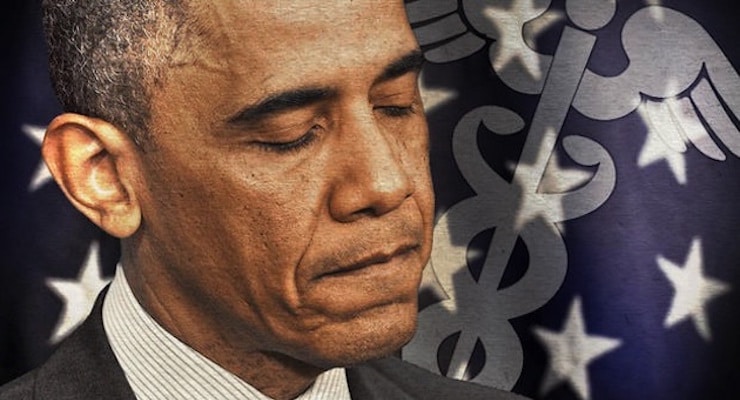 Aetna (NYSE:AET), the nation's third largest insurer, announced Monday night the most significant withdrawal from the marketplaces set up by ObamaCare. In 2014, the company had a market value of $38.4 billion and $58 billion in net sales. Now, citing heavy losses since January of 2014, the chairman and chief executive officer said Aetna will severely reduce its participation from 15 states to just 4 in 2017.
"Following a thorough business review and in light of a second-quarter pretax loss of $200 million and total pretax losses of more than $430 million since January 2014 in our individual products, we have decided to reduce our individual public exchange presence in 2017, which will limit our financial exposure moving forward," Chairman and CEO Mark T. Bertolini said in a statement. "More than 40 payers of various sizes have similarly chosen to stop selling plans in one or more rating areas in the individual public exchanges over the 2015 and 2016 plan years, collectively exiting hundreds of rating areas in more than 30 states."
Mr. Bertolini, who characterized the company as "a strong supporter of public exchanges as a means to meet the needs of the uninsured," said in a statement that there are simply not enough healthy people purchasing the pricey insurance to offset the cost of free insurance to cover the major health problems of the older, sicker and poorer. In essence, one of the biggest advocates chose their bottom line over the utopian public welfare, something Republicans and wonks warned would ultimately happen.
"Providing affordable, high-quality health care options to consumers is not possible without a balanced risk pool. Fifty-five percent of our individual on-exchange membership is new in 2016, and in the second quarter we saw individuals in need of high-cost care represent an even larger share of our on-exchange population," Mr. Bertolini also said in a statement. "This population dynamic, coupled with the current inadequate risk adjustment mechanism, results in substantial upward pressure on premiums and creates significant sustainability concerns."
The decision by Aetna follows a series of other announcements by large insurers citing heavy losses from selling their plans in the marketplaces. The nation's largest insurer UnitedHealth (NYSE:UNH) also said publicly it has decided to leave the major exchanges nationwide, raising doubts about the financial and political stability of the president's signature and unpopular health care law. UnitedHealth, with a 2014 market value of $112.7 billion and $130 billion in sales, said it will participate in "three or fewer exchange markets" the year after the presidential election.
"As a strong supporter of public exchanges as a means to meet the needs of the uninsured, we regret having to make this decision," Mr. Bertolini added. "The vast majority of payers have experienced continued financial stress within their individual public exchange business due to these forces."
Anthem (NYSE:ANTM) also recently announced it is projecting mid-single digit losses on the individual plans it sells on the exchanges for 2016. Humana said it would also reduce its participation on the exchanges from 15 states to 11 earlier this month. On the flip side, Cigna (NYSE:CI) further announced that it is losing money on the exchanges, but the insurer said it hopes to expand its marketplace presence to three new states in 2017.
Meanwhile, critics claim the Obama administration has sought to punish the four major insurers by instructing the Justice Department to block two proposed mergers between Aetna and Humana and Anthem and Cigna;. The companies are fighting back against the decisions. Anthem, the second largest insurer with a market value of $41 billion and $74 billion in sales, said if its deal with Cigna is allowed to go forward, it will increase its exchange offerings to nine additional states.