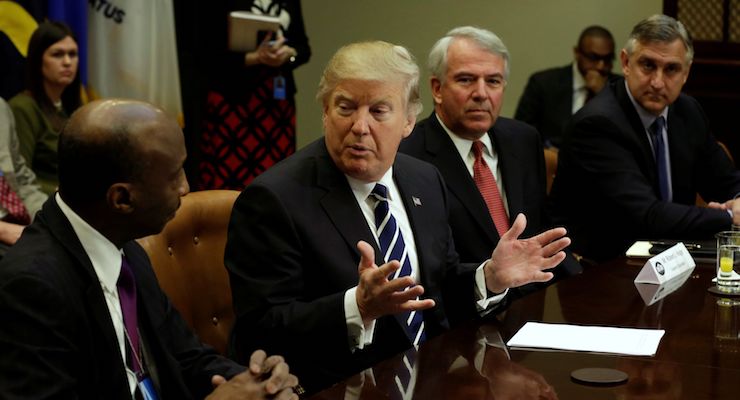 The first Manufacturers' Outlook Survey since President Donald Trump took office shows a "dramatic shift in sentiment" to the highest level ever measured. The National Association of Manufacturers (NAM) survey found more than 93% of manufacturers feeling positive about their economic outlook.
"Across America, manufacturers' optimism is soaring, in no small part because of President Trump's laser-like focus on pursuing bold action, particularly on rethinking red tape to address regulatory reform, to accelerate a jobs surge in America," said NAM President and CEO Jay Timmons. "As the survey shows, manufacturers of all sizes are now less concerned about the business climate going forward because they are counting on President Trump to deliver results."
This is the highest in the survey's 20-year history, up from 56.6 percent one year ago and 77.8 percent in December. The survey results come as President Trump meets with small and medium-sized manufacturers at the White House for a business roundtable.
"We are grateful for the chance to meet with the president today as we continue to tell the White House directly which regulations are still the biggest obstacles to a manufacturing surge," Mr. Timmons added. "There is much work to be done, and manufacturers have the solutions on regulatory reform as well as on infrastructure investment, workforce development, bold comprehensive tax reform and a host of other issues."
For the past 20 years, the NAM has surveyed its membership of more than 14,000 large and small manufacturers to gain insight into their economic outlook, hiring and investment decisions and business concerns. The NAM releases these results to the public each quarter.
A full write-up of the survey is available here.