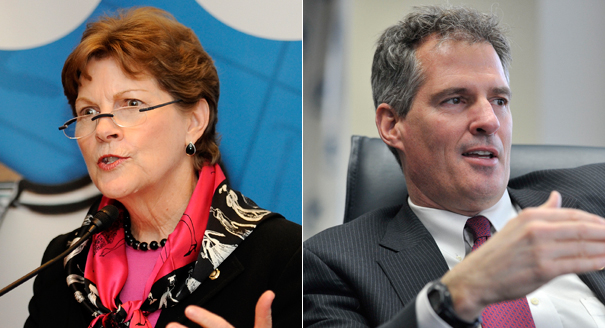 As is often the case in politics, a lot has happened since PPD first visited the New Hampshire Senate race. In the media, the disastrous rollout of ObamaCare has now taken a back seat to the rocky rollout of Scott Brown's campaign.
It is no secret that incumbent Senator Jeanne Shaheen and her team were scared of a challenge from former Massachusetts Senator Scott Brown. So, the bombardment of negative attack ads hoping to define Brown as a carpetbagger came on early and hard.
And it has worked.
After closing the double-digit gap to under five points, Brown now trails Shaheen again by a low-double-digit margin in the PPD average of recent polls. Worse still, he is now viewed more unfavorably than favorably in a majority of recent polls conducted in the state. But, to be fair, much of the respondents who give Brown negative ratings are not independents, the group of voters who typically decide New Hampshire elections. Brown is having a problem that New Hampshire Senator Kelly Ayotte never had — part of his base doesn't like him.
At a monthly meeting for the Gun Owners of New Hampshire, a group that rightfully fears efforts by the United Nations to abolish Second Amendment rights, Brown had a less than easy time answering questions from the crowd. Jame Oliphant of the National Journal had a great piece last month that captured the somewhat awkward, yet often combative gathering. Many on the right simply do not trust Brown, who offered support for a gun ban after the Newtown, CT, school shooting.
Ironically, some activists were openly declaring their support for another GOP candidate, Bob Smith. The former two-term senator, who had previously promised he was not running, should raise far more suspicion than Brown within conservative circles. After his 2002 re-election defeat to the more-conservative John Sununu, Smith moved to Florida where he endorsed the Democratic presidential nominee in 2004, now-Sec. of State John Kerry.
Nevertheless, the fact that Brown cannot convince his own base that he is more trustworthy or more conservative than Bob Smith, speaks volumes.
National Republicans spent a year pleading with Brown to run against Shaheen, emboldened by her steadfast support for a flawed health care law that is deeply unpopular in the state. Focusing only on the fundamentals and the state's political history shows there is, in fact, a clear opportunity for Brown or another credible Republican candidate to defeat Shaheen.
In the Granite State, Republicans have made relative gains in voter registration, PVI trends (Partisan Voting Index) and Gallup's annual state-by-state party ID survey. However, unlike Republicans, after the 2012 election Obama's OFA team remained in New Hampshire to continue their perpetual campaign, which may blunt the natural rightward shift we are observing in the electorate this year, both in New Hampshire and nationwide.
New Hampshire has a propensity to decide elections late, give pollsters erroneous responses and follow nationwide trends. In 2008, Sununu was defeated by another popular former governor, Jeanne Shaheen, largely due to another unpopular president, George W. Bush. But, in 2010, just when liberals thought it was safe to be "big government" in a state notorious for their anti-tax sentiment, now-Sen. Kelly Ayotte smoked Rep. Paul Hodes by over 20 points. With a PVI of D+2, Republicans picked up both seats in the House of Representatives and saw their largest majorities in the state House and Senate since 1962 and 1900, respectively.
Then, just when Republicans thought it was safe to be socially conservative, the same anti-tax Northern suburbanites, who previously migrated from too-blue Massachusetts, broke late for Barack Obama, helping Democrats recapture both House seats and the state House of Representatives.
Even though the NRSC says they are neutral, many other Republicans thought Brown was just the candidate to bring these voters back into the Republican coalition. Yet, even though the PVI shifted slightly to D+1 in 2014, so far that's just not happening.
Still, Republicans have good reason to feel they have a better than average chance to unseat this incumbent senator. President Obama's job approval rating in the state cannot even hold at 44 percent for more than a day at a time, and averages from 42 – 43 percent. Tying Shaheen to Obama really shouldn't be that hard of a task, considering she has supported every major piece of his legislative agenda and controversial appointments.
"In the minds of voters, Barack Obama's disastrous agenda is Jeanne Shaheen's agenda," Bill Murphy, spokesman for the NRSC said in an email to PPD. "Voters are looking for competence and credibility in Washington and President Obama and Democrats on the ballot clearly have a crisis of both."
Brown is potentially one of the best retail politicians in modern American politics. However, he will need to up his game if he wants to earn his status as the GOP frontrunner and have a shot at defeating Shaheen. In politics, the bottom line is that no one wants to back the candidate they perceive to be a loser, whether that characterization is fair or not. In a Republican year, when the party is seeing the Senate map expand in their favor, they will look to other opportunities to make the necessary net gains to retake the majority.
Politico recently reported that "Brown needs to be within 5 to 7 percentage points of Shaheen by mid-September or national money won't come." We heard the same rumblings in early June, so it's safe to say they are serious.
Shaheen, compared to other Democrats in purple and red states, has a relatively high favorability rating in her state. Brown has his work cut out for him and better step it up. Until then, we are moving the New Hampshire Senate race back to the "Likely Democrat" rating it was assigned before Brown announced his bid.
Worth noting, this is why we beat the importance of candidate recruitment over and over in our readers' heads, because save for this one variable, our model tells us this race should be far more competitive than Brown has been able to it make thus far.