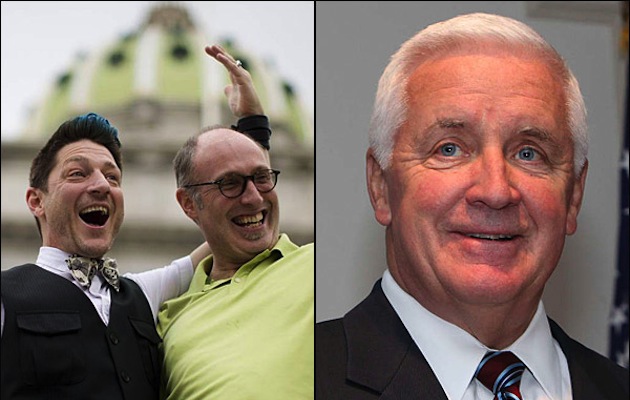 Incumbent Republican Governor Tom Corbett will face Democrat challenger Tom Wolf in November in the Pennsylvania gubernatorial election. Most pundits have agreed it wouldn't be easy for Gov. Corbett to secure re-election, but PPD now sees Corbett as the single-most vulnerable Republican incumbent up for reelection this cycle.
After giving several weeks latitude to the incumbent to turn things around, our model strongly suggests this race now strongly favors the Democrat, Tom Wolf, though it is truly borderline between ratings. We have seen two other Republican incumbents who initially appeared to be just as vulnerable as Corbett improve their standing in the polls and our model. Gov. Paul LePage in Maine has not only held competitive numbers, but has a better than average chance of winning a plurality in his three-way race. Gov. Rick Scott in Florida, who once appeared almost as vulnerable as Corbett, is actually slightly favored in our model. Early ad buys and typical blunders from Crist turned the fundamentals of that race completely around.
Gov. Corbett, however, has been unsuccessful at pulling off similar improvements, though it doesn't even appear that he is trying.
Pennsylvania's political trends show there is a historical likelihood this race will tighten, or perhaps even flip back the other way. However, it appears that the Penn State debacle may have not yet claimed its last victim. Corbett has been severely damaged in by the scandal that rocked the Keystone State, and his connection in the minds of the public is strongly linked to his time as attorney general.
The Pennsylvania governor's race is a perfect example of how "All politics is local" on the gubernatorial level. Pennsylvania, according to two significant pieces of data, is actually moving slightly in the Republican Party's direction. In Gallup's party ID by state annual survey, less people identified with the Democratic Party than the previously year, while more identified with the Republican Party from the same period. The electorate, or who will actually vote in 2014, will also likely favor Republican candidates more so than in 2010. The PVI, or Partisan Voting Index, clocked in at D+2 in 2010, but will by all accounts tick to the right modesty to D+1.
The Republican Party, put frankly, made a colossal mistake by not pressuring Corbett to step aside. Sources in the RGA, the Republican Governors Association, told PPD that New Jersey Gov. Chris Christie was asked to do just that to his neighboring fellow-governor. But after the complete media-backed assassination, known as "BridgeGate," the Republican establishment eased up on asking Christie to pressure Corbett, because they felt the New Jersey governor no longer had the clout needed to do so.
While the media focuses on races where the insurgent versus establishment narrative is playing out elsewhere this cycle, notice there was no challenge to Corbett from a Tea Party rival, either. Unfortunately for Republicans, who most pundits would agree were bound to lose some governorships this cycle, are now more likely than ever to lose the Pennsylvania governor's mansion.
Again, a comeback is certainly not out of the question, but the incumbent has little choice but to make this a negative, nasty campaign. Still, we see this race is clearly "Likely Democrat" on our 2014 Governor's Map Predictions model, and that would be the case even if the same (though fraudulent) 125 percent turnout rate Obama enjoyed in the Philadelphia precincts, is not duplicated in November.
| Poll | Date | Sample | MoE | Wolf (D) | Corbett (R) | Spread |
| --- | --- | --- | --- | --- | --- | --- |
| PPD Average | 5/27 – 6/29 | — | — | 51.5 | 29.8 | Wolf +21.7 |
| Franklin & Marshall | 6/23 – 6/29 | 502 RV | 4.4 | 47 | 25 | Wolf +22 |
| Quinnipiac | 5/29 – 6/2 | 1308 RV | 2.7 | 53 | 33 | Wolf +20 |
| PPP (D) | 5/30 – 6/1 | 835 RV | 3.4 | 55 | 30 | Wolf +25 |
| Rasmussen Reports | 5/27 – 5/28 | 750 LV | 4.0 | 51 | 31 | Wolf +20 |
| Quinnipiac | 2/19 – 2/24 | 1405 RV | 2.6 | 52 | 33 | Wolf +19 |
| Quinnipiac | 12/11 – 12/16 | RV | — | 44 | 37 | Wolf +7 |
| PPP (D) | 11/22 – 11/25 | 693 RV | 3.7 | 44 | 32 | Wolf +12 |
| Quinnipiac | 3/6 – 3/11 | RV | — | 39 | 39 | Tie |
| PPP (D) | 3/8 – 3/10 | 504 RV | 4.4 | 42 | 33 | Wolf +9 |
| PPP (D) | 1/4 – 1/6 | 675 RV | 3.8 | 29 | 41 | Corbett +12 |