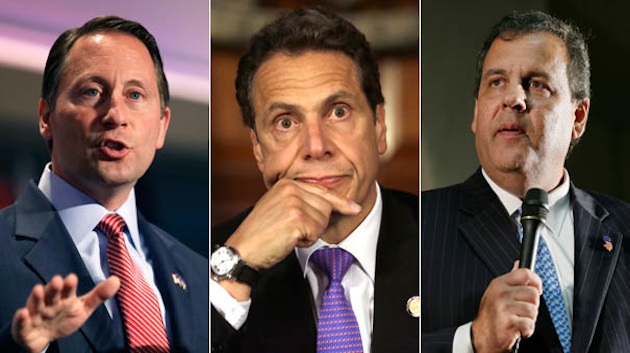 A whopping 83 percent of state voters say government corruption is a problem, and by a 48 – 41 percent margin they say Democratic Gov. Andrew Cuomo is part of the problem, not the solution. Still, in the latest head-to-head matchup conducted by Quinnipiac University, Cuomo leads Republican challenger and Westchester County Executive Rob Astorino by a healthy 56 – 28 percent.
That margin is relatively unchanged from the 57 – 28 percent lead Cuomo held in a May 21 survey conducted by the independent and reliable pollster Quinnipiac University, despite recent charges of corruption in the governor's mansion. From early June to the end of summer, however, Cuomo's numbers have precipitated on average by 10 points, suggesting the governor's recent slew of negative press may be having a modest impact.
Even The New York Times slammed Cuomo for what appears to be a systemic effort to squash investigations into alleged political corruption by a special task force he created in cases that seemingly led to the governor and his politically-connected friends.
Cuomo set up the Moreland Commission last summer to root out corruption in state politics, but within two months, investigators discovered violations of campaign-finance laws and issued a subpoena to a media-buying firm that had placed millions of dollars' worth of advertisements for the New York State Democratic Party.
When news of the subpoena hit Mr. Cuomo's most senior aide, Lawrence S. Schwartz, the commission was ordered to withdraw it. Why? Mr. Cuomo is buddies with the people at Buying Time, who count him among their client list. The panel's chief investigator, Regina M. Calcaterra, blatantly explained why the subpoena was withdrawn in an email to the two other co-chairs later that afternoon.
"They apparently produced ads for the governor," she wrote.
Yet, New York State voters approve 57 – 38 percent of the job Cuomo is doing, and say 56 – 36 percent that he deserves reelection, which again, is little changed from the May 21 survey. Cuomo gets a 55 – 36 percent favorability rating, compared to Astorino's 25 – 22 percent favorability, but a whole 51 percent said they don't know enough about Astorino to even have an opinion of him.
"As they have in the past, voters say government corruption is a big New York problem," said Maurice Carroll, assistant director of the Quinnipiac University Poll. "How is Gov. Andrew Cuomo doing in handling ethics problems? Not too hot, voters say. In fact, voters say he's part of the problem, not part of the solution."
Abandoned by the RGA, Astorino's campaign has been slow to get out of the gate. New Jersey Gov. Chris Christie, the chairman of the Republican Governors Association, said he doesn't invest in "landslides" or "lost causes."
However, at one point in his own first bid for governor of the Garden State, many pundits and pollsters would have said the same for the now, still-popular state leader. A little over a months ago when Christie made those comments, there were many in the Republican column who thought them inappropriate, as New York's Democratic dominance on the national level has not historically translated into shutting out GOP candidates statewide. Former New York Governor George Pataki, a popular Republican governor and Astorino backer, was among those who criticized Christie's comments.
To me, it's incomprehensible and disappointing," said Pataki.  "To believe in July that you can predict with absolute certainty an election in November, is not right."
But, now, with ethics and corruption charges against Cuomo, more and more Republicans are questioning the head of the RGA's decision.
"A lot of things are going to happen," Pataki added, "and the Moreland Act commission is one of them."
In fact, the polling data lend support to this criticism, as the number of voters who say they are aware and knowledgable about the Moreland Commission is low. Voters by a 37 – 8 percent margin, including 28 – 11 percent among Democrats, say that the Cuomo Administration interfered with the Moreland Commission. However, a sizable 53 percent don't know enough about it. And among those who say they know are overwhelmingly susceptible to an alternative.
At a press conference back in July, Astorino said if Christie was "unable to help a Republican candidate for governor, then maybe he should consider stepping down as chairman of the RGA."
"That's his job," he added.
In total, of the 51 percent of New York State voters who have read or heard anything about the governor's decision to end the Moreland Commission, 77 percent say the shutdown was a political deal with legislative leaders while 11 percent say the decision was good government. Even voters affiliated with the governor's own party say by a 68 – 15 percent margin that it was a political deal.
"Voters who know about it say overwhelmingly it was a political deal, not good government, when Cuomo killed the Moreland investigating commission," Caroll said. "More than one-third of voters also think that the governor's office interfered with the commission."
New York voters have a long history of backing anti-corruption candidates no matter the party affiliation. From former Gov. Grover Cleveland to America's Mayor Rudy Guiliani, New York State voters have punished in-power party politicians when the anti-corruption message was effectively communicated. Without money and backing from the Republican Governors Association, however, the story is unlikely to penetrate the consciousness of the electorate.
"Is the governor's race all over? Did it ever start?" Carroll asked.
Polling shows Astorino is only getting the "standard Republican numbers," and would need more support to expand that base. As of now, he isn't getting it from the RGA. If Christie and the RGA continue to leave him out in the cold, Astorino intends to at least remain vocal in his criticisms.
"Maybe it's inconvenient to come over the bridge to New York to help a Republican candidate for governor here," Astorino told the New York Daily News. "That's his call, whether he wants to or not, but as RGA chair he has governors and candidates who have a chance to win … and it's incumbent upon him to help all of us."
PPD's 2014 Governors Map Predictions model rates the New York Governor race "Safe Democrat."
| Poll | Date | Sample | MoE | Cuomo (D) | Astorino (R) | Spread |
| --- | --- | --- | --- | --- | --- | --- |
| PPD Average | 7/5 – 8/17 | — | — | 56.0 | 27.3 | Cuomo +28.7 |
| Quinnipiac | 8/14 – 8/17 | 1034 RV | 3.1 | 56 | 28 | Cuomo +28 |
| Siena* | 8/4 – 8/7 | 863 LV | 3.3 | 58 | 26 | Cuomo +32 |
| NBC NY/WSJ/Marist* | 7/28 – 7/31 | 852 RV | 3.4 | 54 | 23 | Cuomo +31 |
| CBS News/NYT/YouGov | 7/5 – 7/24 | 6788 RV | — | 56 | 32 | Cuomo +24 |
| Siena* | 7/13 – 7/16 | 774 LV | 3.5 | 60 | 23 | Cuomo +37 |
| NBC NY/WSJ/Marist* | 6/23 – 7/1 | 673 RV | 3.8 | 59 | 24 | Cuomo +35 |
| Siena* | 6/8 – 6/12 | 835 RV | 3.4 | 57 | 21 | Cuomo +36 |
| Quinnipiac | 5/14 – 5/19 | 1129 RV | 2.9 | 57 | 28 | Cuomo +29 |
| Siena | 4/12 – 4/17 | 772 RV | 3.5 | 58 | 28 | Cuomo +30 |
| Siena | 3/16 – 3/20 | 813 RV | 3.4 | 61 | 26 | Cuomo +35 |
| NBC NY/WSJ/Marist | 2/28 – 3/3 | 658 RV | 3.8 | 65 | 25 | Cuomo +40 |
| Siena | 2/16 – 2/20 | 802 RV | 3.5 | 64 | 22 | Cuomo +42 |
| Quinnipiac | 2/6 – 2/10 | 1488 RV | 2.5 | 58 | 24 | Cuomo +34 |
| Siena | 1/12 – 1/16 | 808 RV | 3.4 | 67 | 19 | Cuomo +48 |
| Quinnipiac | 11/20 – 11/24 | 1337 RV | 2.7 | 56 | 25 | Cuomo +31 |
| NBC NY/WSJ/Marist | 11/18 – 11/20 | 333 RV | 5.4 | 65 | 23 | Cuomo +42 |
| Siena | 11/11 – 11/14 | 806 RV | 3.5 | 63 | 24 | Cuomo +39 |