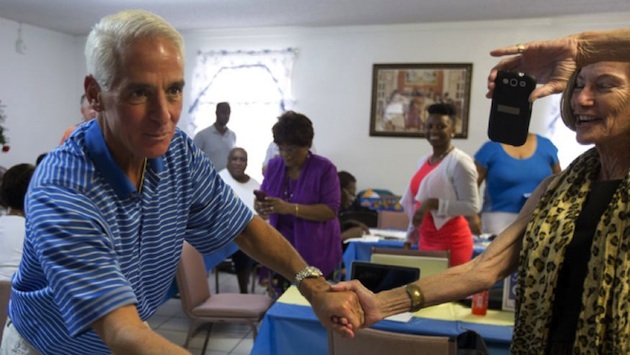 Former Florida Gov. Charlie Crist won the Democratic primary Tuesday and will now go on to face incumbent Republican Gov. Rick Scott in November. Crist is the first candidate to win both party nominations for governor in the Sunshine State.
In the weeks leading up to the primary election Crist openly and frequently touted the fact his campaign had President Obama's GOTV operation on-loan, an advantage that Democrats said would close the Republican enthusiasm gap and take Gov. Scott by surprise.
"The president's campaigns, in both 2008 and 2012, have really rewritten the book on how you get out the vote," Crist said in an interview. "I can tell you, since I used to be one, Republicans don't know how to do this."
However, in politics talk is rarely truth, and Tuesday's primary results suggest the Obama operation is not translating into energy for the former Republican.
Crist defeated Democratic challenger Nan Rich with 620,689 to 214,111 votes, or 74.4 to 24.6 percent. In 2010, Democratic gubernatorial candidate Alex Sink not only defeated her primary challenger by a slightly larger margin, but she earned roughly 43,200 more primary votes than Crist, or 663,802 (76.9 percent). That's a huge disappointment for Democrats who have spent the last two months listening to the Crist camp claim their efforts in the vote-rich, Democratic bastion of South Florida had exceeded Alex Sink's.
Considering population growth and Democrat voter registration roles, Crist's showing Tuesday was less than unimpressive. Incumbent Gov. Rick Scott remains the favorite in the race according to PPD's 2014 Governors Map Predictions model for numerous reasons. For now, let's stick with ground game operations since we are already on topic.
"Bottom line, it's going to be who has the best ground game and can get their message out," Scott said in an interview. "We've got to have a better ground game than our opponents."
Unlike Crist, Scott built his GOTV operation from scratch, which currently boasts more than double the number of field offices Crist has borrowed from the Obama campaign. The Scott campaign says they estimate that their volunteers have already knocked on the doors of 700,000 Floridians, blowing the 200,000 doors that the Romney camp had knocked on by this point in the 2012 election out of the water.
Despite the hype and hope on the Left, Tuesday's results clearly show Scott has a greater advantage than polls have shown, though he has now pulled ahead of Crist slightly. Scott not only won his primary with more votes — or, 833,593 votes, approximately 210,000 more votes than Crist — but he won it by a larger margin, suggesting the governor has solidified his base to a greater extent than Crist. That said, the Democratic primary was a bit more contested, so it was to be expected that Crist received a somewhat lower level of support.
But while Scott begins with 87.65 percent base support, Crist has nearly a quarter of his own party he still must win over. There can be little doubt that those who voted for Rich rejected Crist, because even though he is a well-known candidate, many Democrats simply do not trust him yet.
Now, many of those voters are more than likely to come home, but this puts Crist at a significant disadvantage, particularly in a midterm electorate. Since we first examined the Florida Governor race back in April, PPD, which is based in Florida, has been warning others not to put too much stock into notoriously inaccurate pollsters. This contest is shaping up to have built-in disadvantages for Crist most pundits and prognosticators have either honestly missed, or blatantly ignored. Instead, we have argued and continue to argue that it is best to focus on the "big picture" fundamentals and historical trends.
First, the senior voting bloc, which in recent cycles has represented an average 24 percent of the electorate, has become an increasingly reliable Republican voting bloc. Obama only carried Florida by 70,000 votes in 2012, and in midterm election cycles seniors have a far greater impact. Earlier polling in Florida historically underestimates the senior vote, and they are now beginning to break for Scott in droves.
Second, Crist is underperforming among Florida Hispanics. He leads Gov. Scott by just 47 – 35 percent in notable polls conducted in the Democratic stronghold of Miami-Dade. In fact, Crist has just half the support President Obama had in the region in 2012. Though a lot can happen between now and Election Day, this is a clear sign of a real danger that Scott will draw significant crossover Democratic support. Crist's weak base of support is largely due to his pathetic showing among the county's Hispanic voting bloc, who currently favor Scott 50 – 31 percent.
In truth, Hispanic voters have never liked or supported Charlie Crist. Even when he was a relatively popular Republican governor, prior to switching to the Democratic Party, he failed to win a majority of Hispanics. Crist was only able to carry the county once, and that was during the landslide reelection of former Gov. Jeb Bush. He was clobbered by now-Sen. Marco Rubio among Hispanics in 2010.
The Florida Governor race is eerily similar to Crist's experience in 2010. He started out with double-digit leads over both Rubio and Scott, only to see them slowly wither away as Election Day drew closer. In early Spring, we suspected 2014 was likely to be deja vu for the former governor all over again and, after examining Tuesday's results, it would appear our suspicions were correct.
2014 Florida Governor Polls
| Poll | Date | Sample | MoE | Scott (R) | Crist (D) | Spread |
| --- | --- | --- | --- | --- | --- | --- |
| PPD Average | 7/5 – 8/18 | — | — | 43.5 | 42.5 | Scott +1.0 |
| SurveyUSA* | 8/15 – 8/18 | 564 LV | 4.2 | 44 | 41 | Scott +3 |
| Rasmussen Reports | 7/29 – 7/30 | 900 LV | 3.0 | 42 | 41 | Scott +1 |
| CBS News/NYT/YouGov | 7/5 – 7/24 | 6873 RV | — | 48 | 43 | Scott +5 |
| Quinnipiac | 7/17 – 7/21 | 1251 RV | 2.8 | 40 | 45 | Crist +5 |
2010 Florida Governor Polls
2010 Polling At This Point In Cycle