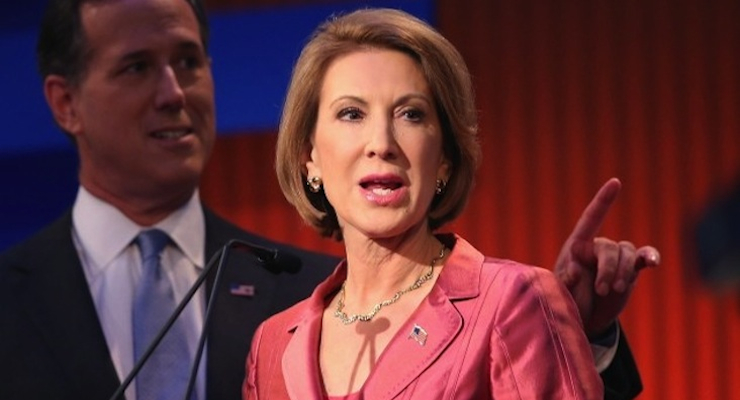 While each of the Republican presidential candidates were clearly seeking to distinguish themselves in the first of two presidential debates Thursday, only one had a break-out moment. Former Hewlett-Packard CEO Carly Fiorina was the clear winner of the first Republican debate that took place Thursday in Cincinnati, Ohio.
"You're lucky you weren't here earlier," Fox News host and debate moderator Megyn Kelly said in the open to the prime-time debate. "She opened a can of you-know-what before."
Kelly, who otherwise had a highly-criticized night, was correct. Carly Fiorina brought her A Game on issues of foreign policy, domestic policy, philosophical differences between party ideology and, of course, frontrunner Donald Trump.
"He is the party's frontrunner right now and good for him," the only female GOP candidate said. "He's tapped into an anger that people feel. They're sick of politics as usual. I'll tell you this. Since he has changed his mind on amnesty, on health care and on abortion, I would just ask what are the principles by which he will govern?"
"I didn't get a phone call from Bill Clinton before I decided to run for president. Did any of you?" Fiorina asked while turning to look at the other candidates on stage.
It has recently been reported that the former president and husband to the now-Democratic frontrunner called Trump prior to his announcement, raising eyebrows from the Beltway to the soon-to-be caucus rooms in Iowa.
"Hillary Clinton lies about Benghazi, lies about her emails, she's still defending Planned Parenthood and she is still her party's frontrunner," Fiorina said in closing statements. " 2016 is going to be a fight between conservatism and a Democratic Party that is undermining the very character of this nation. We need a nominee that is going to throw every punch, not pull punches. Someone who cannot stumble before he even gets into the ring."
Last night, the self-made businesswoman did much to advance her argument for making her the nominee. Given the importance of modern political debates and the positive press that will saturate the airwaves for the next few days — or, perhaps weeks — it is likely that someone in the top ten will be forced to the second-tier. In the average of national polls, Fiorina is currently polling at around just 1 percent, though she has gained traction in a recent Gravis Marketing survey, among others. Given her strong debate performance, it is almost a certainty that her position and support will grow.
"I can win this job, I can do this job," Fiorina added. "With your help and support I will lead a resurgence of this great nation."