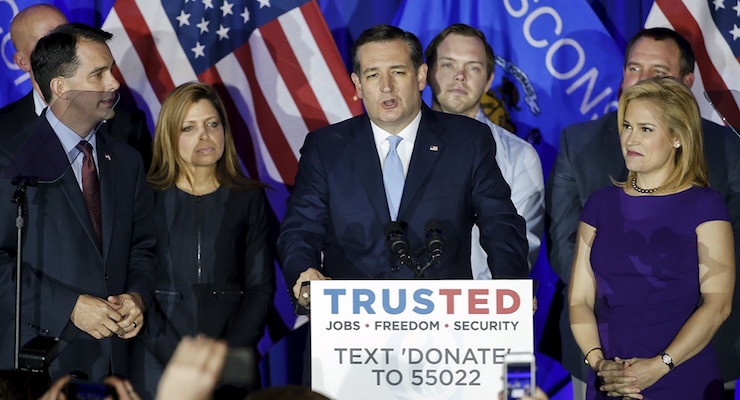 Donald Trump Will Probably Erase Poor Wisconsin Performance in New York
Without a doubt, Texas Sen. Ted Cruz won a decisive victory in the Wisconsin Republican primary on Tuesday night, beating Donald Trump 48.1% to 35.1%. Ohio Gov. John Kasich won just 14.1% of the vote in a state he previously said was a good fit for his campaign.
While the margin of victory might have been surprising to those who follow polls, Sen. Cruz's win was predicted and expected by those who follow demographics. Most pundits have focused on Mr. Trump's "Worst Week" to explain the outcome, but truthfully we have enough demographic data from previous contests at this point in this point in the cycle to expect The Donald would receive roughly 35%.
That said, the race wasn't without some surprises.
With 99% of the precincts reporting, Sen. Cruz won 48.1% of the vote, far more than the 25% to 30% he won in the four Wisconsin border states. That surge was fueled by his performance among certain demographic groups that he thus far has shown no ability to win. Put more bluntly, he showed signs of expanding what is his rather limited base of support.
| STATE | TRUMP | CRUZ | KASICH |
| --- | --- | --- | --- |
| Iowa | 24.3% | 27.6% | 1.9% |
| Minnesota | 24.3 | 29.0 | 5.8 |
| Michigan | 36.5 | 24.9 | 24.3 |
| Illinois | 38.8 | 30.3 | 19.7 |
| Wisconsin* | 34.0 | 49.3 | 14.3 |
Nevertheless, the Wisconsin Republican primary was more likely a speed bump than a "turning point" in the Republican nomination, as the Texas senator suggested in his victory speech in Milwaukee. Aside from the fact we have no data to support a natural appeal among these voters, what we do have supports the theory that Wisconsin really may be a special case.
We won't reiterate everything, but unanimous support from influential local talk radio, as well as the endorsement and on-loan GOTV machine from popular Gov. Scott Walker, which was built from having to win 3 statewide elections in 4 years, is estimated to have contribute roughly 10 percentage points to Sen. Cruz's margin. Sure, there are states remaining that will be favorable to him out West, but that multi-layered level of support will no longer be the case, ever again.
Now, Sen. Cruz is now moving into unfriendly territory and, if Gov. Kasich continues to fade as he did in Wisconsin, demographic and polling data alike indicate the front-runner's delegate haul could actually increase. The opposite could happen, as well, but as high as 8 in 10 supporters of Gov. Kasich say Mr. Trump is their top second choice. That numbers depends on the state, but consider where the battle for delegates is headed at this point in the Republican nomination.
Mr. Trump leads on the PPD average of New York Republican Primary polls by 36.5% with more than 50%. If those numbers hold, he is poised to potentially take all of the states 95 delegates and more than make up for Tuesday night. The Empire State, Mr. Trump's home state, votes on April 19 and two weeks is a very long time in politics to sustain momentum.
The next big contest comes on April 26 in Pennsylvania. There are 712 delegates up for grabs in the Keystone State "Loophole Primary" contest, where Mr. Trump leads on the PPD average by double-digits and is at nearly 50% of the vote in some surveys. In the short-term, that may change in response to Wisconsin. But in two week, if Mr. Trump takes New York overwhelmingly (it's just a matter of the margin), the narrative will shift again.
Remember, Sen. Cruz only won his home state with roughly 43.8% of the vote, not an impressive margin of victory even considering the number of candidates in the race. Gov. Kasich also failed to win a majority in his state, though he won with 46.8% and topped Sen. Cruz. If Mr. Trump wins a majority, which the PPD Election Projection Model (and others) fully expects him to do, the results will (or should) be a big story moving into Pennsylvania.
The bottom line is that it is dangerous to read to much into the results of one night before supporting data is available to back up those assumptions. Demographics are demographics, which is why we constantly argue (correctly) that pre-Labor Day general election polling is absolutely meaningless and without predictive value. Our suspicion–actually, it's a bit more than just a suspicion–is that Sen. Cruz, his supporters and the Republican Establishment should cherish the moment while it lasts.
Since he outperformed our model's expectations on Tuesday, we still project Donald J. Trump will have roughly 1,192 delegates by the time the votes are counted on June 7, when the final contests are held. Worth noting, a recent [content_tooltip id="37972″ title="SurveyUSA Poll"] that broke down support by region, suggests we may be underestimating his haul in California and, while he'd still be 45 delegates short of a majority, it's a very doable number.
Considering who he just put in charge of the delegate hunt between June 7 and July 18, he still is favored to put together the 1,237 delegates needed to clinch the nomination on the first ballot at the convention in Cincinnati. Worth noting, as well, is that the irony and uncertainty of the process remains if Mr. Trump fails to put together the remaining delegates in this scenario. His post-Wisconsin statement may have been combative and brash, but it's absolutely true.
The party has no intention of allowing him to win on a ballot, either. He is merely a means to an end, or a delegate denier in an effort to deny Mr. Trump an outright majority of delegates. But I digress.