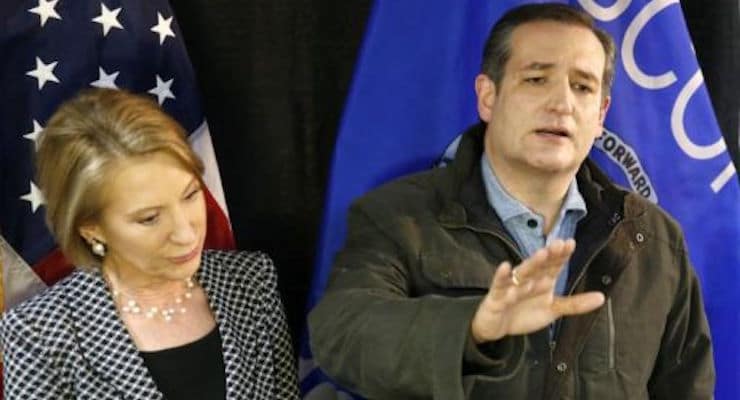 Texas Sen. Ted Cruz has won the Wisconsin Republican Primary, defeating New York businessman and front-runner Donald J. Trump in the winner-take-most state. Ohio Gov. John Kasich, who Sen. Cruz began to target as well in the final weeks, will come in a distant third.
The Republican Establishment and talk radio chose to make their stand in The Badger State local talk radio lined up against Mr. Trump in unanimity. Charlie Sykes, Jeff Wagner of WTMJ, and Mark Belling, Vicki McKenna and Jay Weber of WISN have been in the tank for Sen. Cruz, which has disproportionately impacted regions of the state that typically hand him large margins of victory.
Add an endorsement from the popular Wisconsin Gov. Scott Walker and Gov. Kasich, who appeals to many of the same voters as Mr. Trump, and it equals a deficit. The Donald himself acknowledged as much this week.
"In certain areas — the city areas — I'm not doing well," Mr. Trump told voters at a rally in Racine. "I'm not doing well because nobody knows my message. They were given misinformation."
Indeed, Mr. Trump has performed above average in Rust Belt states slightly similiar to Wisconsin, but exit polls showed the electorate resembled Iowa more, where Sen. Cruz won. Mr. Trump's populist message of "fair" trade played only with roughly 30% of Republican primary voters in Wisconsin and his economic message struggled to break through amid a series of controversies, some of which were self-inflicted.
But Sen. Cruz and his supporters who reluctantly lined up behind him to stop Mr. Trump from clinching the nomination are hoping The Badger State marks the beginning of the end for the New York businessman.
"Tonight is a turning point. It's a rallying cry," Sen. Cruz said in his victory speech in Milwaukee. "And the people have a choice."
He touted his past wins and raising some $2 million dollars on the day of the contest.
"Four very different states — Utah, Colorado, North Dakota, Wisconsin," he added. "Four victories."
With the exception of Wisconsin, the states are actually quite similiar in demographics and process. But what was also consistent was the outside help he received from PACs and anti-Trump supporters across the board. The Club for Growth PAC spent $1.4 million in ads in support of Sen. Cruz, even endorsing for the first time ever.
"Tonight marks a major pivot in the GOP race away from Donald Trump and toward Ted Cruz," said Club for Growth Action President David McIntosh." Not long ago, Wisconsin was Donald Trump's to lose. He had a big lead in Wisconsin, but, with the help of a $1 million Club for Growth ad buy, an excellent campaign by Ted Cruz, and Governor Scott Walker's strong endorsement, Trump lost. The door is now closing on Trump's chance to get to 1,237."
"Sen. Cruz tonight showed signs of expanding what was his rather limited base of support previously," said PPD's senior political analyst Richard Baris. "He won 43% of the non-evangelical vote tonight in Wisconsin, according to exit polls, beating Trump at 37% and Kasich at 17%. But Wisconsin really is a special case and Sen. Cruz is now moving to unfavorable territory."
There are 42 delegates at stake in Wisconsin, with 23 of them being allocated to the winner of the statewide vote. The remaining delegates are allocated based on the vote in congressional districts. According to the PPD Election Projection Model, while the win in Wisconsin was big and denies Mr. Trump delegates, Sen. Cruz still has a very steep hill to climb moving forward.
Mr. Trump leads on the PPD average of New York Republican Primary polls by 36.5% with more than 50%. If those numbers hold, he is poised to potentially take all of the states 95 delegates and more than make up for Tuesday night. The Empire State, Mr. Trump's home state, votes on April 19.
The next big contest comes on April 26 in Pennsylvania. There are 712 delegates up for grabs in the Keystone State "Loophole Primary" contest, where Mr. Trump leads on the PPD average by double-digits with nearly 50% of the vote.
Candidate
Popular
Vote
Delegate Votes
Soft
Pledged
Soft
Unpledged
Soft
Total
Hard Total
Cruz, Rafael Edward "Ted"
527,067  48.25%
36  85.71%
 
36  85.71%
36  85.71%
Trump, Donald John, Sr.
383,604  35.12%
6  14.29%
 
6  14.29%
6  14.29%
Kasich, John Richard
153,509  14.05%
 
 
 
 
Rubio, Marco A.
10,469   0.96%
 
 
 
 
Carson, Benjamin Solomon "Ben", Sr.
5,563   0.51%
 
 
 
 
Bush, John Ellis "Jeb"
3,109   0.28%
 
 
 
 
Paul, Randal H. "Rand"
2,476   0.23%
 
 
 
 
Uncommitted
2,267   0.21%
 
 
 
 
Huckabee, Michael Dale "Mike"
1,414   0.13%
 
 
 
 
Christie, Christopher James "Chris"
1,302   0.12%
 
 
 
 
Fiorina, Carleton Sneed "Carly"
809   0.07%
 
 
 
 
Santorum, Richard John "Rick"
512   0.05%
 
 
 
 
Gilmore, James Stuart "Jim", III
241   0.02%
 
 
 
 
Total
1,092,342 100.00%
42 100.00%
 
42 100.00%
42 100.00%
Delegate Selection: Winner-Take-Most (by district and statewide),
Polling hours 7:00a CDT (1200 UTC) to 8:00p CDT (0100 UTC).
Voter Eligibility: Open Primary