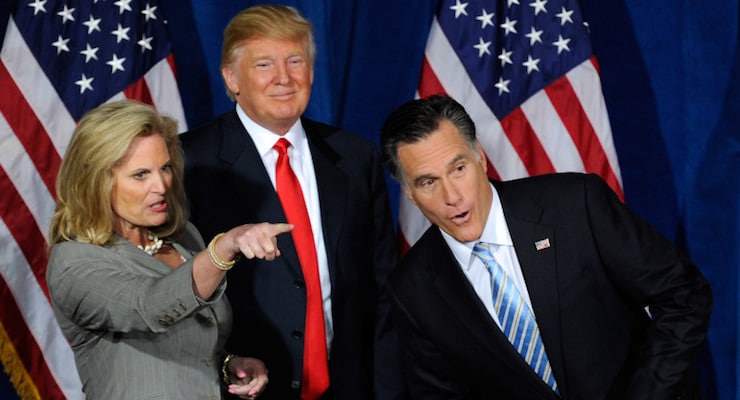 Mitt Romney has one more reason to dislike Donald Trump. Now that the votes are tallied from his five-state sweep on Tuesday, Mr. Trump has surpassed Gov. Romney in the popular vote and is on track to set a new primary record for the Republican Party.
As of Wednesday morning, Mr. Trump has received more than 10 million popular votes, roughly 250,000 more than Gov. Romney received during the entire 2012 primary cycle. He also topped Arizona Sen. John McCain, the 2008 GOP nominee, by more than 153,000 votes. The feat is actually understated by the raw numbers because, unlike the prior two primary cycles, the fields weren't as large and the votes weren't split by so much for such a long period of time.
Now, for the overall Republican primary vote record.
The current record-holder is George W. Bush, who received more than 10.8 million votes in 2000. Worth noting, G.W. Bush also set the record for the least number of votes in 2004. But that was his reelection bid and wasn't opposed by any serious candidate. The previous no-vote record was held by President Ronald Reagan, won around 7.7 million votes in 1980 (don't forget about population growth people).
"So, in a nutshell, the Republican party wants to stop the one candidate who excites voting and non-voting Americans from getting the nomination," said PPD's senior political analyst Richard Baris. "We've seen the voters behind these totals in several states Republicans have been unable to carry in a general election. These are voters they will need if they hope to compete with the changing demographics. And yet the party has failed to heed the message."
With ten more contests to go, including voter-rich states such California, Mr. Trump is on track to top former President George W. Bush. Ironically, he won in the 2000 presidential election against all odds by tapping into much the same nationalist sentiment, or "America First" platform . Bush was trailing in the polls and up against the vice president of a sitting president with a high approval rating.
"George W. Bush wasn't always a neocon. He slammed China on trade and promised not to be a globalist 'policemen of the world,'" Baris added. "That generated excitement among certain voters who had previously abandoned the Republican Party for Ross Perot or no one, at all. They never registered in the pollsters' surveys and he shocked the world."
No doubt, Mr. Trump and his supporters are hoping for the same come November.