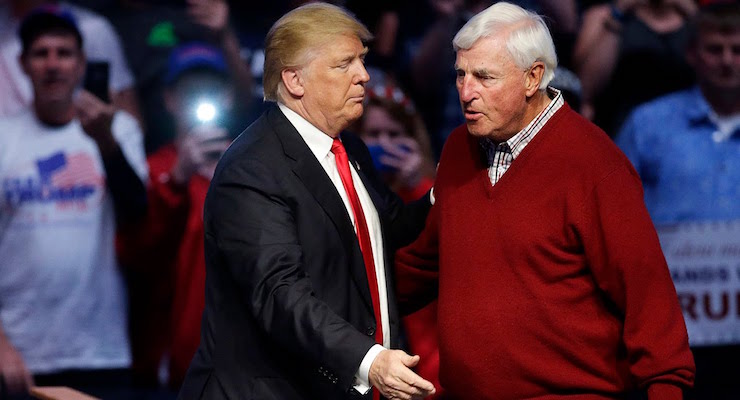 Donald Trump has won the Indiana Republican Primary, defeating Texas Sen. Ted Cruz in the state that became a must-win for him and the entire anti-Trump movement. The win, which was dominant and marks the seventh straight, effectively makes The Donald the presumptive nominee of the Republican Party.
"This is it. Game. Set. Match," said Richard Baris, PPD's senior political analyst.. "That's the reality no matter what you hear from Mr. Cruz later Tuesday night or even Wednesday morning. Not that Donald Trump has beaten the senator in Indiana, there are those previously loyal to the #NeverTrump movement that have told us it is time to pack it in. If Sen. Cruz doesn't recognize that, then all he will be doing is helping to elect Hillary Clinton."
Baris says the results will impact other states that previously favored the senator such as Nebraska, Montana and Washington, which will all begin to move further out of Sen. Cruz's grasp.
There were 57 delegates up for grabs in Indiana's winner-take-most primary contest, with 30 awarded to the statewide winner (Trump) and 3 in each of the state's 9 congressional districts. As of last count, Mr. Trump is leading in 9 of 9 congressional districts. Sen. Cruz was expected to run strong in the Northeastern region of the state, but is only holding tiny leads in two counties, Whitley and Wells. Mr. Trump leads in every single other county in the district.
In Indiana today, 6 in 10 Republican primary voters in preliminary exit polls said they wanted an outsider candidate, far higher than the average 52% measured in previous Republican primaries this cycle. Mr. Trump won roughly 8 in 10 of these voters. Exit polls in Indiana found a typical split in the size of each group, with "change" and "plain talk" voters accounting for more than half.
On immigration, nearly half said they (47%) favor deportation, up from the average 41% in previous races to date. Exit polls also showed 74% of Republican primary voters cast their ballot for their candidate, while 25% cast it against another. In Indiana, 27% said they were excited about a Trump presidency, while just 13% said the same of Sen. Cruz and 7% for Gov. Kasich.
Sen. Cruz won late-deciders 47% to 38% and nearly 6 in 10 voters who described themselves as "very conservative" Republicans. However, evangelicals went for Mr. Trump 49% to 44% for Sen. Cruz. Non-evangelicals went for the frontrunner 55% to 29%. Among other demographics, it was all Trump. Independents, a bloc that made up 23% of the electorate, went for Mr. Trump 53% to 33%. He carried Republicans 50% to 40% and Democrats 60% to 28%.
Mr. Trump not only carried voters without a college degree (57% to 35%) but those with a college degree (44% to 43%). The former made up 48% of the electorate while the latter 45%. He carried men 57% to 34% and women 46% to 42%. While Sen. Cruz has had support from younger voters, they went for Mr. Trump by 4 points, 44% to 40%.
Further, early-deciders represented nearly half of Indiana Republican Primary voters, a bloc the frontrunner dominated in the latest indicator the debate was won months ago. The early deciders in Indiana exit poll results were similar to the average in previous contests.
As we saw in the Northeast, the anti-Trump–or more specifically, the #NeverTrump movement–is fading despite the result of the vote. The Texas senator, who is now seen as more establishment than outsider, as well as more negatively than positively, has poisoned the well among non-Cruz supporters. In Indiana 4 in 10 said they would not vote for him if he were the nominee. The number of non-Trump supporters who say they wouldn't vote for Trump was slightly more than 4 in 10, but there were fewer. Only 3 in 10 non-Kasich supporters said they wouldn't vote for Kasich.
The race for Indiana got nasty on Tuesday when Sen. Cruz had a media availability Tuesday morning to respond to Mr. Trump allegedly accusing his father of being associated with Lee Harvey Oswald prior to assassinating John F. Kennedy. The senator, who once promised to "continue to sing Donald's praises," call him "a pathological liar" who was "amoral" in his non-existent values.
"The man cannot tell the truth, but he combines it with being a narcissist," Sen. Cruz said. "A narcissist at a level I don't think this country has ever seen."
Worth noting, 4 in 10 supporters of Hillary Clinton in 2008 said they would not vote for then-Sen. Barack Obama. Obviously, they unified and went on to win in a landslide.
While Cruz & Co. were hoping to repeat Wisconsin, the frontrunner did everything possible to avoid making the same mistakes. A win in that state's primary would've given Mr. Trump a chance to end a protracted primary process, which he saw this time and took action he's been reluctant to take up until now.
Through April 26, Mr. Trump actually ran more broadcast television spots in the state of Indiana than Sen. Cruz, according to data from Kantar Media's CMAG. The Donald aired 1,249 spots in the state juxtaposed to 639 for Sen. Cruz. However, dominance in the air war overall still favors Sen. Cruz, who enjoys the support of outside groups either supporting him or opposing Mr. Trump.
Super PACs such as Trusted Leadership PAC, Club for Growth Action and Our Principles PAC, all have spent millions of dollars in the collaboration to deny Mr. Trump the nomination. In total, they ran a combined 1,227 spots in the state, the CMAG study revealed.
The frontrunner now leads on the PPD Delegate Tracker by a count of 1,041 to 565. He needs only 1,237 to clinch the nomination. In California, where he enjoys a lead of more than 30 points in the latest poll, there are 172 delegates up for grabs. In New Jersey, where he leads by a similiar margin, there are 51 delegates awarded on a winner-take-all basis.
Mr. Trump is also favored to win in The Garden State. Nevertheless, the Kasich campaign released a statement vowing to continue until Mr. Trump reaches the 1,237 delegates needed. That scenario has now become highly likely.
"Mr. Trump has now outperformed our delegate projections on the PPD Election Projection Model for the seventh consecutive contest," Baris added. "With this victory, he is on track to haul in more than enough delegates to clinch the nomination."