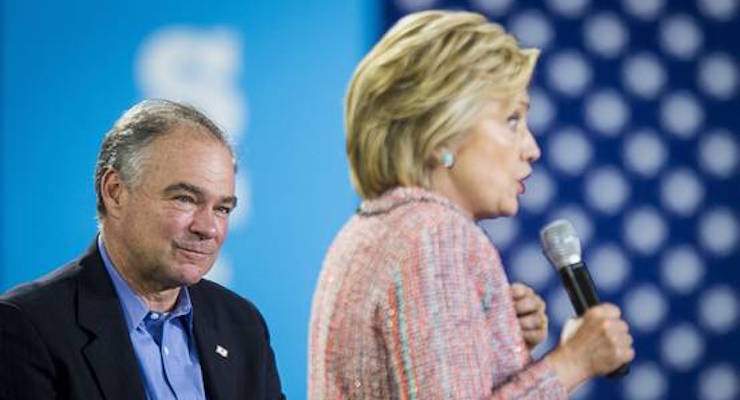 Virginia Sen. Tim Kaine, widely thought to be Hillary Clinton's VP pick, is under fire from members of his own party over a letter to banks. Sen. Kaine signed a letter requesting regulators to rethink how banking rules cover regional banks. The letter was addressed to chiefs at the Federal Reserve, Federal Deposit Insurance Corp. and Office of the Comptroller of the Currency.
Now, some liberal groups are furious that Kaine, along with several other Democratic senators, are telling their party's soon-to-be presidential nominee exactly how they feel.
"Let's be really clear: It should be disqualifying for any potential Democratic vice presidential candidate to be part of a lobbyist-driven effort to help banks dodge consumer protection standards and regulations designed to prevent banks from destroying our economy," Democracy for America executive director Charles Chamberlain said in a statement Thursday. "Our presidential ticket cannot beat the billionaire bigot by simply being not-Donald Trump. To win in November, our ticket needs to have an unquestionably strong record in the fight against income inequality, one of the defining issues of the 2016 election."
Kaine was one of four Senate Democrats to sign on to the letter, to include Virginia Sen. Mark Warner. Sens. Kaine and Warner have strong lobbyist ties to Capital One, the tenth biggest bank in the United States by assets, which is now based in McLean, Virginia (thanks to their party).
The political firestorm and disunity within the party comes as Mrs. Clinton was expected to announce her decision in an effort to blunt Donald Trump and the message coming out of the Republican National Convention in Cleveland, Ohio. The dustup underscores Mr. Trump's message framing the election as a choice between an outsider bringing real change to maintaining the corrupt status quo of a rigged system.
In a statement, Kaine spokeswoman Amy Dudley argued the Virginian has a strong record on pushing stronger banking regulations.
"Sen. Kaine is a strong supporter of Dodd Frank's financial protections because certain financial institutions wreaked havoc on the American economy, hurting millions of Americans in the process and believes we need strong rules‎ to stop that chaos from happening again," Dudley said. "The toughest regulation should be on the biggest and riskiest institutions. Credit unions, community banks and regional banks need to be carefully regulated, but the nature of the regulation can be different to ensure scarce resources are efficiently spent allowing regulators to focus on the bad actors."