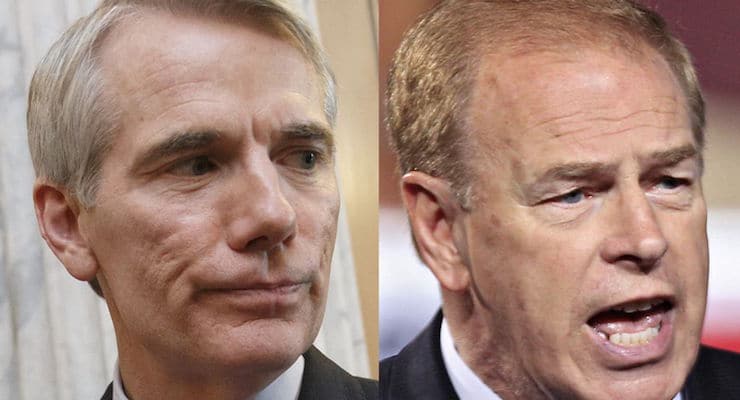 Ohio, Pennsylvania and Nevada will play a pivotal role in deciding both the outcome of the presidential election and control of the U.S. Senate. On Monday, Freedom Partners Action Fund announced a $3.9 million ad buy targeting Democrats in the key races for U.S. Senate.
Will they be effective? Let's take a look at the ads and their content.
In Ohio, the group shelled out $1.4 million for TV and digital ads criticizing then-Governor Ted Strickland's handling of the state's budget surplus. Prior to his defeat, Strickland raised taxes and fees on Ohioans who were "already struggling to make ends meet," the ad states.
"At a time when hard-working Ohioans were struggling, Ted Strickland made their lives even harder and more expensive by raising taxes and fees on everyday services, including healthcare," Freedom Partners spokesman Bill Riggs said in a statement. "His policies drove good jobs out of the state, and hit low-income families especially hard. Ohio can't afford to go back to Ted Strickland."
[brid video="56944″ player="2077″ title="Strickland Made Our Lives Harder"]
The ad targets Strickland's record as a tax-and-spend liberal, including the findings of a report from the Legislative Services Commission looking at a two-year $50.5 billion state budget from 2010 to 2011. Strickland signed that budget as governor and it included a $1.5 billion tax and fee increase. As governor, Strickland frequently used budget gimmicks and fee increases (as have many others) to patch revenue shortfalls.
Increases targeted vehicle registration fees and trash disposal, costs that hit the working and middle class taxpayer directly in the pocket. The Columbus Dispatch reported the fee impacted everyday Ohioans "because the state fee for dumping garbage at landfills is going up to $4.75 per ton from $3.50."
Whether these issues this year will resonate or not to the benefit of incumbent Republican Sen. Rob Portman is uncertain. But Gov. John Kasich, then the Republican challenger, successfully hung the "tax and spend" mantra around Strickland's neck, highlighting how Strickland redirected a scheduled 2009 income tax cut that PoliFact said took $844 million in refunds earmarked for Ohioans and "instead gave it to the government."
While polling in Ohio remains tight, the race is rated "Leans Republican" on the PPD Senate Election Projection Model. There is little doubt that Strickland's only path to victory includes outperforming both himself in prior races and President Obama in his native Appalachia, where Republican nominee Donald Trump ran the strongest and continues to do so.
Another $1.3 million was dropped for a TV and digital ad buy in the battleground state of Pennsylvania, which is in play on the presidential level for the first time since the 1980s. The ad claims how Katie McGinty helped steer subsidies to the "favored few" at the expense of taxpayers in the Keystone State.
"Katie McGinty has spent the bulk of her career propping up special interests with corporate welfare and then leveraged her public position for personal gain when she left office," Mr. Riggs said. "Katie McGinty didn't just rig the system for the favored few—Katie McGinty is one of the favored few."
Public polling shows incumbent Republican Sen. Pat Toomey out in front of McGinty and, while the race is competitive, he is slightly favored to retain his seat in November.
The third and final $1.2 million ad buy on TV and digital will target Catherine Cortez Masto, Senate Minority Leader Harry Reid's handpicked successor. The Silver State is perhaps the heaviest lift for Republicans on the presidential level, though the latest survey shows both Mr. Trump and Republican Joe Heck ahead. Still, the Nevada Senate race is rated a "Toss Up" on the PPD Senate Election Projection Model.
The ad underscores the influence of special interests on Masto and her assault on Uber.
[brid video="56950″ player="2077″ title="Nineteen Dollars Per Hour"]
"If Nevadans want to know whom Catherine Cortez Masto will represent in the U.S. Senate, look no further than her record of fighting for special interests at the expense of hardworking taxpayers as state attorney general," Riggs added. "Nevadans deserve a senator who will work for them, not one who will embrace the special-interest culture that plagues Washington."