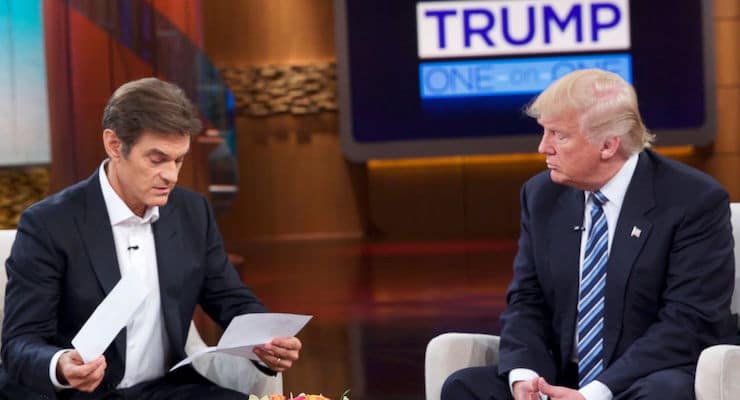 NEW YORK, N.Y. – Republican presidential candidate Donald Trump released the results of a detailed physical examination he took last Thursday before Hillary Clinton collapsed in New York City. The health of the candidates has come to the forefront of national political discussion over the presidential campaign in light of what the Clinton campaign first called a "medical episode" during the 15th annual memorial service for the September 11, 2001 terror attacks.
Mr. Trump's medical examination took place on Friday, September 9, 2016, and was administered by Dr. Harold N. Bornstein of New York City. While he has been Mr. Trump's personal physician for over 30 years, he was also the doctor who wrote a letter that raised eyebrows for stating he would be the healthiest president ever. Nonetheless, Democrats have tried to make an issue of Trump's health and taxes after Mrs. Clinton collapsed and the campaign was caught lying about after a video surfaced on Twitter showing the event.
The New York businessman's doctor says the candidate is "in excellent physical health" and was hospitalized only one time over the course of his 70-year life when he was 11 years old for an appendectomy.
"We are pleased to disclose all of the test results which show that Mr. Trump is in excellent health, and has the stamina to endure — uninterrupted — the rigors of a punishing and unprecedented presidential campaign and, more importantly, the singularly demanding job of President of the United States," the statement said in a campaign.
The full results can be read here, but they do show Mr. Trump–at 6′ 3″ and 236 pounds–is slightly overweight and on medication for low blood pressure. However, the results of his blood panel and work up showed no cause for concern and he had a colonoscopy in 2013 that revealed no polyps.
Meanwhile, former President Bill Clinton continues to cast doubt on Mrs. Clinton's explanation for the collapse after her doctor released a statement claiming she had a mild pneumonia. First, the campaign said she was just dehydrated and over-heated, though it was only 80 degrees in the city that day. Then, Mr. Clinton went on CBS and accidentally said his wife "frequently" has similiar attacks before correcting himself, something CBS edited out and People's Pundit Daily reported.
Then, on Wednesday, he claimed it was really the flu, contradicting the doctor's letter.