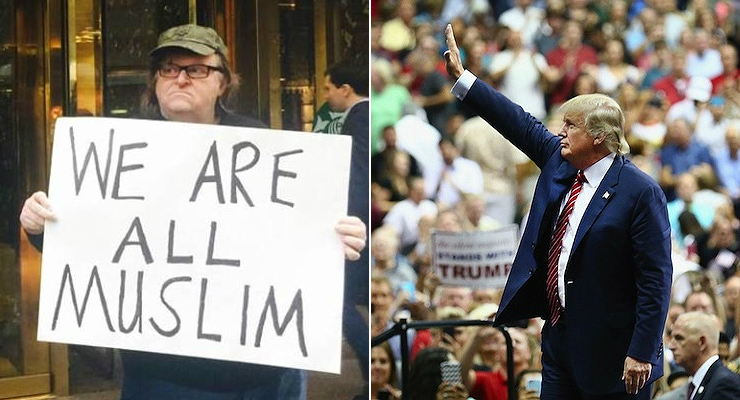 [brid video="67126″ player="2077″ title="Michael Moore Full Interview &#39Trump Can Win&#39″]
Far-left liberal filmmaker Michael Moore has claiming for months that he believes Donald Trump will win the election in November, citing the failures of the elitist class. Moore, who lives in the Rust Belt state of Michigan, told Chuck Todd on "Meet the Press" again that Mr. Trump "can pull this off" because the establishment has abandoned voters and annihilated the middle class.
Making it clear that he didn't want Mr. Trump to win, he still warned Todd–who is definitely a mediaite, or media elitist–that Rust Belt voters see Donald Trump as "their human Molotov cocktail that they get to go into the voting booth on November 8th."
"I've been trying to say for months here, I live in Michigan. And, and across the Midwest, across the Rust Belt, I understand why a lot of people are angry. And they see Donald Trump as their human Molotov cocktail that they get to go into the voting booth on November 8th and throw him into a political system that has made their lives miserable," he said. "At the convention, I was worried, Democrats, the Clinton campaign, were all doing an end zone dance when they were only on the 50 yard line. And, and the celebrating after the debate– everybody needs to have their game face on here and realize that Trump can win."
"He can pull this off. And, and everybody has to, has to be full force here. Otherwise, it's, it has a chance of happening."
Todd, who was boasting that media elites have lined up about the New York business, was pretty much told what America thinks of him. Moore said no one cares outside of the political class what the media think "with good reason." In real America, voters don't trust the media and because they, too, have failed them.
"People don't trust the media," Moore added. "They don't listen to it, and for good reason, because the, the media has let them down. The, the rich and the powerful have let them down. They used to believe in that. They used to vote for the rich and powerful. And a lot of them aren't going to do that this time. And they, for some strange reason, see Donald Trump as their, as their means to get back at, at, at this system."
In Moore's homestate of Michigan, which has previously been reliably Democratic, polls show Hillary Clinton's lead shrinking, down to as little as 3 points in the most accurate state polls. However, as Moore noted, she lost the state in the primary to Sen. Bernie Sanders in an upset. The polls showed Mrs. Clinton easily carrying the state, by upwards of 30 points in some surveys. It was the biggest polling blunder since the 1984 New Hampshire Democratic primary.
"I don't think people do trust the Democrats. How else could a socialist win 22 states? I mean in my state of Michigan, Bernie Sanders won. If, if, if Hillary Clinton and the Democrats had a difficult time with him, that should have been the red flag to everybody that there is a, a, a mood out there where people are upset at the Democrats and the Republicans," Moore said.