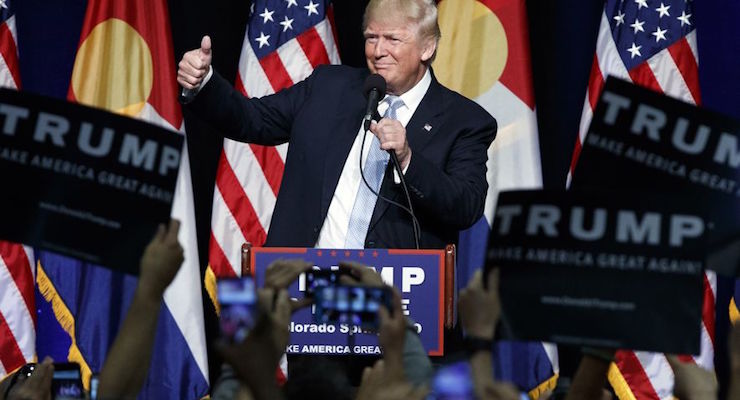 The three largest unions representing the three largest police departments in Colorado have endorsed Republican Donald Trump for president, the Denver Post reported. The Denver Police Protective Association, the Aurora Police Association and the Colorado Springs Police Protective Association on Monday announced their endorsements.
Combined, the three unions represent more than 2,700 police officers serving communities in the crucial battleground state, which used to vote reliably Republican. However, years of immigration has essentially changed the demographic composition of the state, which Democrats hope to make more like New Mexico.
In a news release, representatives from each union said "only" Mr. Trump will support law enforcement and ensure safer communities.
"After thoughtful consideration, we wholeheartedly believe Mr. Trump is the only candidate that will protect law-abiding citizens from those who choose to break the law," said Nick Rogers, president of the Denver police association.
Last month, the New York businessman, who has made law and order and centerpiece of his campaign, won the support of the Fraternal Order of Police nationwide and the Philadelphia Fraternal Order of Police (FOP). The latter slammed his rival Hillary Clinton for what most police departments see as siding with violent elements within Black Lives Matter. During the Democratic National Convention in Philadelphia, President John McNesby and the membership of Philadelphia Lodge 5 FOP ripped Mrs. Clinton for booking the families of victims' found to be at fault in deadly exchanges.
The Fraternal Order of Police is insulted and will not soon forget that the Democratic Party and Hillary Clinton are excluding the widows, and other family members of Police Officers killed in the line of duty who were victims of explicit, and not implied racism, and 'being on duty in blue,'" Mr. McNesby said. "It is sad that to win an election Mrs. Clinton must pander to the interests of people who do not know all the facts, while the men and women they seek to destroy are outside protecting the political institutions of this country."
Mr. Trump frequently talks about the increase in crime in the country. According to a recent report by the Federal Bureau of Investigation (FBI), violent crime rose nationally between 2014 and 2015. Meanwhile, Mrs. Clinton continues to repeat the nation's police officers, as well as the nation as a whole, suffers from "implicit bias" against minority races.