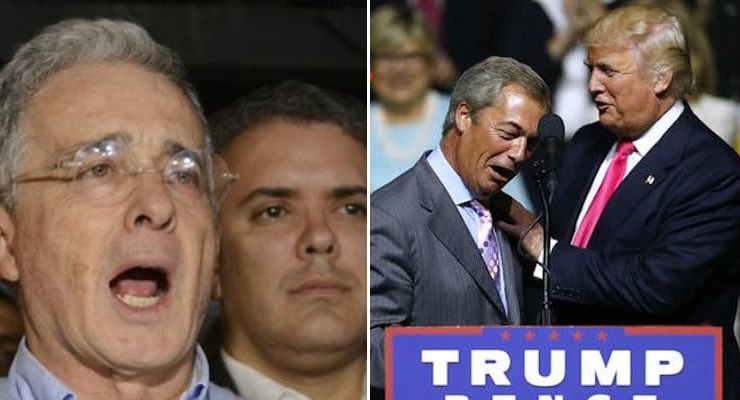 In the latest polling blunder, the Columbia FARC Peace Deal was voted down 50.2% to 49.8%, a tight margin but one polls indicated was a near impossible result. The vote follows another big miss for the polling industry, which is further fueling disbelief among the very energized supporters of Republican presidential candidate Donald Trump. Post debate polling shows him trailing Hillary Clinton nationwide and in battleground states.
But are either of these examples accurate comparisons to make to the 2016 U.S. presidential election?
Perhaps. A closer analysis of the recent polling blunders over the last few years–not just in the United States but globally–does indeed seem to indicate an anti-rightwing bias. That's not to say that will be the case in the 2016 presidential election, but data show that this is a one-sided phenomena. In fact, it is exacerbated when we include nationalist-leaning candidates, issues and/or movements.
Whether it's intention or not, I cannot say.
But let's start with the polls leading up to the vote on the Columbia FARC Peace Deal and who exactly drove the outcome.
FARC OR FARSE
A poll released Wednesday ahead of the vote found that more than two-thirds of Colombians who planned to vote were going to approve it. While the poll conducted by Invamer showed a far larger margin than earlier polls, 67.5% in favor and only 32.5% against, it still led to damaging headlines for those opposing the deal.
"New poll finds overwhelming majority in Colombia to vote 'yes' to FARC peace deal," read a headline in Columbia Reports.
It followed another Ipsos Poll, who conducts the Reuters 2016 presidential tracking poll, which found 36% of Colombians were going to vote in favor of the deal juxtaposed to just 25% who would oppose it. Roughly another third abstained in the poll–a category that was previously eliminated from their methodology in the presidential poll–and 3% were undecided.
We'll get more into Reuters/Ipsos specifically a little later, but let's move on for now.
A Datexco Poll released the Tuesday ahead of the vote found roughly 53% would vote in favor of the peace deal–which was pushed by a coalition consisting of center-left President Juan Manuel Santos and the far left opposition–while only 47% were going to vote against it. Only the conservative minority in Congress led by former President Alvaro Uribe, had been campaigning for a "No" vote. He and allies argued the deal was too lenient for the FARC and would allow the Marxist rebels to enter the political system (it will).
Loading the Columbia FARC Peace Deal Vote Map
As you can see above in the map, voters in the eastern province of Casanare, an area where working class farmers and even landowners have had to live with FARC extortion for years, voted 71.1% against the deal. In Antioquia, the home state of ex-President Uribe, a whopping 62% rejected the deal. This compares to Bogota, the capital and home to the intelligentsia, which voted 56% for the deal.
Rural and non-city dwellers, average working people, came out to vote and pollsters didn't catch it their level of dissatisfaction.
Get my point?
While turnout was low, at least in this election, the intensity and enthusiasm was against the deal.
Pollsters will no doubt do what they usually do–blame low turnout, as YouGov and others incorrectly did in the 2014 midterm elections–which was less than 38% in Columbia. But as we've seen, that's not always the case. In other cases, they simply miss a vast bloc of voters.
LIKUD UPSET OVER ZIONIST UNION IN ISRAELI ELECTIONS
In March 2015, the polling trend showed a small but clear lead for leftist challengers in the Zionist Union and a collapse of support for Israeli Prime Minister Benjamin Netanyahu and his Lukid party. While most conceded neither would likely garner anywhere near the 61-seat majority of the 120-seat Parliament required to outright form a government, no pollster or pundit believed Prime Minister Netanyahu and aligned-parties would tally up 67 mandates the day after, well above the majority needed.
Mr. Netanyahu alleged the Sunday before the election that the anti-Israeli media was collaborating behind-the-scenes with "foreign powers" and, because of this barrage, there "is a real danger that a leftist government will come to power."
He was right, but prevailed nonetheless. Had he not prevailed and the exit polls would have been right, then the labor-aligned Isaac Herzog and his Zionist Union party would have won 27 seats.
DAVID CAMERON AND THE RISE OF BRITISH NATIONALISM
A few months later in May, then-Prime Minister David Cameron and his conservative Tory Party in Great Britain won 331 seats in the Parliamentary elections, a net 24 seat gain and more than enough for an outright majority. Polls had shown the election was too close to call, but in the end the opposition Labour Party bled much of its support to the Scottish independence (nationalism) movement and suffered a net loss of 26 seats.
While UK Independence Party leader Nigel Farage failed to gain the seat of Thanet South, his nationalist party's share of the vote across the nation rose unexpectedly by 9.5%. The Scottish National Party won a projected 56 seats, 50 more than it garnered at the last election in 2010.
BREXIT, MEET MR. BREXIT
As I previously examined, the aggregate polling data on Brexit, the UK referendum on whether to Leave or Remain in the European Union (EU), "wasn't even close." Sure, there were a few who showed a slight edge for the Brexit movement led by Nigel Farage, but they were dismissed as outliers. In fact, on the eve of the vote count, early exit polling had Mr. Farage himself almost conceding defeat.
The final survey conducted by SurveyMonkey, which consequently has Mr. Trump down by 5 points today, showed voters backing "Remain" 51% to 46%. Getting back to our friends at Reuters/Ipsos, their final poll had "Remain" winning the day 52% to 48% after Ipsos even had "Leave" losing by 18 points in a separate survey conducted for the Evening Standard.
Remember those voters who abstained in the Ipsos survey in Columbia? Yeah, well, they obviously went against the peace deal and the "Remain" side in large numbers. In the U.S. presidential election, the directors of the Reuters/Ipsos Poll recently decided to allocate those voters accordingly, which resulted in Mr. Trump's August lead over Mrs. Clinton evaporating almost over night.
"They not only changed their formula, to put Hillary ahead. They went back and changed the results, for a week of results where Trump was ahead, and then they turned those into Hillary leads," said renowned Democratic pollster Pat Caddell. "They also erased all the former polling off the site. They didn't tweak their procedure – they cooked it."
This is actually particularly noteworthy if you look at the results of the previous Reuters/Ipsos poll, which Caddell addresses.
"Never in my life have I seen a news organization, and a supposedly reputable poll, do something so dishonest," he added. "What they have done is, they decided the people who said, 'oh, I'm never for someone' – oh, those must be Hillary votes. They used to be Trump voters."
In 2014, U.S. polling firms were not only way off the mark but the months leading up to Election Day were downright indefensible. We will find out in a few weeks whether or not they are again.