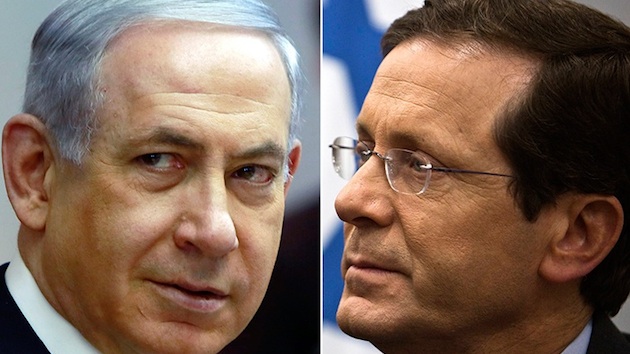 With 99 percent of precincts reporting before dawn on Wednesday, it was clear Prime Minister Benjamin Netanyahu pulled off an impressive comeback. His Likud has emerged as the undisputed victor in the Israeli elections Tuesday.
According to the official tally, Likud will win 30 seats while Isaac Herzog's Zionist Union will come in second with 24 seats. A triumphant Netanyahu declared victory even before speaking to jubilant supporters at Likud headquarters in Tel Aviv, which drew mocking headlines and analysis from what has officially exposed itself as an international media hostile to Israelis who don't agree with them.
But Bibi knew anything short of a Zionist Union blowout would mean another term as premier for the nation's longest-serving prime minister. In our pre-election analysis, we tried to explain to Netanyahu haters in the media and their consumers that even if the final media polls were accurate, Bibi would be back as premier. The reasons are pretty straightforward.
First, and fundamentally most important, Israelis are conservative and the electorate has been moving steadily toward the right over the past 15 years. Despite the Arab-Israeli voting blocs increasing their overall share of the electorate and millions of pro-Palestine dollars pouring in worldwide to shift Israeli public opinion, the citizenry doesn't have the luxury of perceiving the real threat posed from Israel's neighbors as some left-wing university debate.
As a result, Netanyahu's path to a coalition was always easier than Herzog's path in large part because other, smaller parties in the Knesset are natural Likud allies. They have worked to form a nationalist government with Netanyahu before, and they will do it again. This time, Netanyahu's detractors can kiss the idea of the unity government goodbye, as Likud has more seats now than they did the last time around.
The prime minister said last night that he had already spoken with the heads of parties that he plans to invite into his coalition, including Bayit Yehudi chief Naftali Bennett (8 mandates), Kulanu's Moshe Kahlon (10 mandates), Yisrael Beytenu head Avigdor Liberman (6 mandates), Shas leader Aryeh Deri (7 mandates), and Yaakov Litzman and Moshe Gafni who represent United Torah Judaism (6 mandates).
That's 67 mandates, well above the majority needed to form a government Netanyahu can effectively govern without over-compromising on Likud principles and promises.
The remaining parties are Joint Arab List (14); Yesh Atid (11), and Meretz (4).
But let's for a moment pretend the exit polls were correct. The best Herzog could have done was to take the over-estimated 27 won by the Zionist Union, somehow convince former Likud-turned–Kulanu-head Moshe Kalon to back him with his 10, and the even less plausible option to take Shas's 7 and the 6 from United Torah Judaism. Of course, the far left-wing Meretz party would've been a certain 5.
That's still only 55 mandates. In reality, Meretz only appears on track to have 4, Zionist Union is shy at least three, and Moshe Kalon will be finance minister in Netanyahu's new government.
Thus, the leftist voices in the media began to pressure Israeli President Ruevin Rivlin, himself a member of Likud, to "do the right thing" and push Netanyahu to accept a unity government that rotates the premiership with Herzog. The most condescending example came from Gil Hoffman in the Jerusalem Post, which demonstrated utter contempt for the Israeli electorate.
"With all due respect to the millions of people who gave up time on their vacation day to cast ballots, it was clear from the start that the election would be decided by one man: President Reuven Rivlin," wrote Hoffman shortly after the first exit polls from the Israeli elections were published. "When the polling stations closed at 10 p.m. Tuesday, so did the irrelevant part of the election when the people had their say. Now the important part of the election begins."
He went on to surmise — from exit polls, not actual precinct voting results — that "a unity government is the most likely coalition."
"President Rivlin, the choice is yours," he concluded. "This election will be decided by one vote."
While Rivlin said that he prefers a unity government, it was quite unclear whether he would push very hard for it even if the results were not so strongly in favor of Likud.
Aides to Rivlin Tuesday told PPD he would not "force" a unity government on Netanyahu, but rather would "encourage" both men to form one. Now that we have the actual voting results, the unity government outcome is a fantasy.
So, now, all that remains for the leftist media to do is trash Israeli voters and the man they chose to lead them, again.
"Netanyahu's return to power for a fourth term likely spells trouble for Mideast peace efforts and could further escalate tensions with the United States," the Associated Press reported.
NBC Nightly News interim anchor Lester Holt, who took over for the disgraced Brian Williams, opened the show's first tease by declaring that the "dramatic finish to a fight for power" has ended with "the last-minute threat that could destroy any chance of a peace plan."
Andrea Mitchell reporting from Likud headquarters in Tel Aviv, declared that the election "has left years of American peace efforts in the Middle East teetering on the brink" after Netanyahu "shut the door on a two-state peace solution, rejecting an idea of a Palestinian state, long a key pillar of American diplomacy in the region."
Unless we missed something over the last 70 years, a two-state peace solution has proven impossible, in large part because Palestinians don't accept a two-state solution. Only left-wing apologists do.
Apparently, the two-state solution, which was once incredibly popular among the Israeli electorate, in reality seems impossible to them now, too. So, for now, they voted for a government and a leader that will focus on their survival, and there is nothing the left-wing media can do about it.