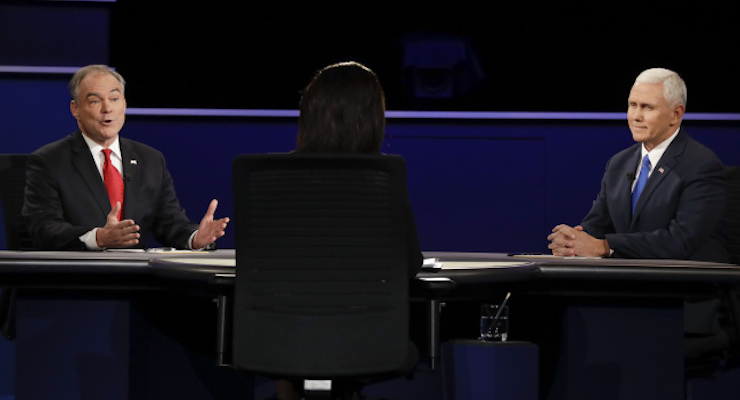 For 90 minutes during the only vice presidential debate of the 2016 election, Gov. Mike Pence and Sen. Tim Kaine made the case for their running mates. The Clinton campaign told reporters going in that Sen. Kaine had the aim to turn Gov. Pence into Mr. Trump, or at least what they want voters to think of the New York businessman.
By that standard, he failed.
But he did hammer Gov. Pence over the issue of Donald Trump and his temperament, but in a manner that put his own into question. Interrupting Gov. Pence some 39 times, he accused the New York businessman at the top of the ticket of pushing an "outrageous lie" over claims President Barack Obama was not born in the United States and falsely claimed he said all Mexicans were criminals and rapists during his announcement at Trump Tower last year.
Gov. Pence didn't hesitate to defend his controversial running mate. He pointed out that he was referring to illegal criminals and pivoted back to Hillary Clinton, her mishandling of classified information and the Clinton Foundation soliciting donations from foreign governments while she was serving as secretary of state.
The Indiana governor also took aim at the former Virginia governor, claiming the now-senator was an appropriate running mate for Mrs. Clinton because he had tried, though failed, to raise taxes while serving as Virginia Governor.
Gov. Pence was also consistent about painting the Democratic candidates as career politicians unwilling to shake up Washington, as opposed to him and Mr. Trump.
"Hillary Clinton and Tim Kaine want more of the same," he said.
On national security, Sen. Kaine repeatedly brought up Mr. Trump's comments regarding Russian President Vladimir Putin, whom he said was a strong leader for his nation (as opposed to Barack Obama).
"He loves dictators," Sen. Kaine said. "He's got like a personal Mount Rushmore: Vladimir Putin, Kim Jong Un, Moammar Gadhafi and Saddam Hussein."
Gov. Pence accused Sen. Kaine's party and running mate of appeasing Russia in the face of international belligerence, weakening America's standing on the world stage.
"The weak and feckless foreign policy of Hillary Clinton and Barack Obama has awaked an aggression in Russia that first appeared in Russia a few years ago," Gov. Pence said. "All the while, all we do is fold our arms and say we're not having talks anymore."
Sen. Kaine touted the Iranian nuclear deal, claiming that the regime's program had been "eliminated and stopped." While it is still a subject of debate, the Iranian nuclear deal did not stop Tehran from obtaining a nuclear weapon, it simply put into effect a sunset provision that will expire after President Obama leaves office.
But it was the demeanor of the two vice presidential candidates that stood out. Sen. Kaine was forced, rehearsed and interrupted his rival and the moderator dozens of times. He showed anger and frustration when his blows didn't land, while Gov. Pence was calm, comfortable and likable. Basically, he exuded American Midwest and was comfortable in his own skin.
Gov. Pence wanted to talk about issues, while Sen. Kaine had a different goal–tax returns, divisive rhetoric and one-liners.