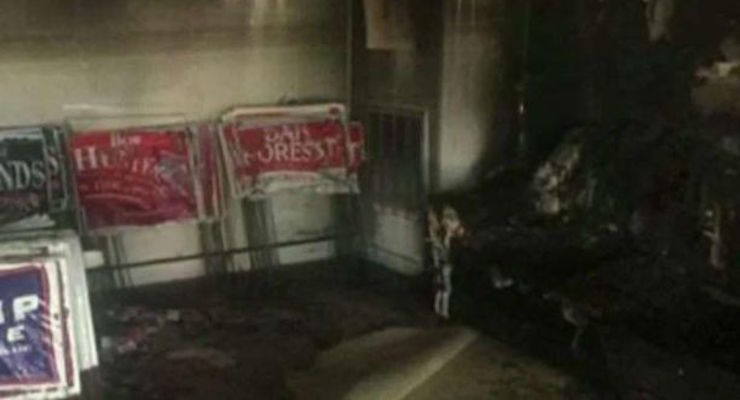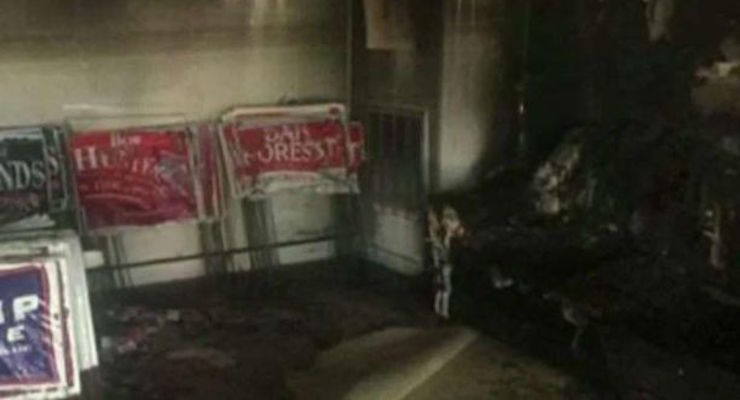 The Republican Party headquarters in Orange County, North Carolina was firebombed and a nearby building vandalized Saturday night. Authorities say police were hunting for those responsible on Sunday and the building located in Hillsborough was severely damaged.
Someone threw a bottle of flammable liquid, or otherwise known as a Molotov Cocktail, through the front window of the office. It burned furniture, records and political signs before going out. An adjacent building was marked with spray painted graffiti that read, "Nazi Republicans get out of town or else."
"The office itself is a total loss," state GOP Executive Director Dallas Woodhouse said, calling the attack "political terrorism." "The only thing important to us is that nobody was killed, and they very well could have been. They are working around the clock. It is a miracle that nobody was killed."
ALL SAFE IN ORANGE COUNTY, NORTH CAROLINA. With you all the way, will never forget. Now we have to win. Proud of you all! @NCGOP

— Donald J. Trump (@realDonaldTrump) October 16, 2016
Registered Democrats outnumber Republicans by a 3-1 margin in the county.
"This highly disturbing act goes far beyond vandalizing property; it willfully threatens our community's safety via fire, and its hateful message undermines decency, respect and integrity in civic participation," Hillsborough Mayor Tom Stevens said in a statement.
Police and officials from the Bureau of Alcohol, Tobacco, Firearms and Explosives were investigating. North Carolina is a battleground state key to both presidential candidates path to victory in November. While CNN was blaming the attack on Republican presidential nominee Donald Trump, he tweeted out condemnation of the attack and pointed the finger at allies of his rival Hillary Clinton.
Animals representing Hillary Clinton and Dems in North Carolina just firebombed our office in Orange County because we are winning @NCGOP

— Donald J. Trump (@realDonaldTrump) October 16, 2016