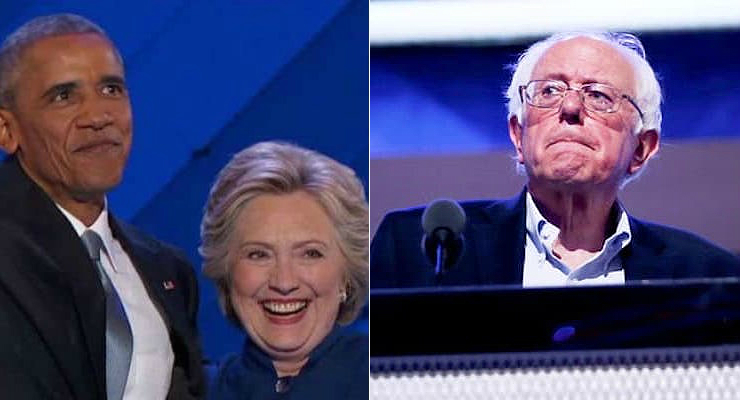 Yet another email released by the anti-secrecy group WikiLeaks shows contempt for Bernie Sanders on behalf of Clinton campaign officials and supporters. Joel Johnson, a bona fide Clinton insider and D.C. lobbyist, gave Clinton campaign chairman John Podesta some pointers in an email reading, "Subject: Friendly advice. No mercy."
"Bernie needs to be ground to a pulp. We can't start believing our own primary bullshit," Johnson wrote on February 22, 2016. "This is no time to run the general. Crush him as hard as you can. Other than that, hope all is well and congrats on Nevada!"
That's a far cry from the "when they go low, we go high" mantra, which is frequent Clinton campaign line first used by Michelle Obama against the Clintons. Nevertheless, the email is the latest to show–at the very least–an effort by Clintonites in and out of the Beltway, the Democratic National Committee (DNC) and other halls of power to see Sanders derailed. Donna Brazile replaced Debbie Wasserman Schultz as the DNC chair after hacked emails proved an effort to burn Bernie in the media and at the ballot box.
But Brazile, herself, was giving debate questions to the Clinton campaign beforehand in an effort to give her the edge over Sanders.
According to an email released Monday, Brazile sent Clinton Communications Director Jennifer Palmieri an email titled, "One of the questions directed to HRC tomorrow is from a woman with a rash," the night before the March 6 primary debate in Flint, Michigan.
"Her family has lead poison and she will ask what, if anything, will Hillary do as president to help the ppl of Flint," Brazile wrote.
On March 7, the following night, Lee-Anne Walters, a mom whose twin boys stopped growing and whose daughter lost her hair during the Flint water crisis, asked the following question to both Mrs. Clinton and Vermont Sen. Bernie Sanders
She wound up ultimately losing the state's primary to Sanders two days later in an upset polls did not predict. Interestingly, though she was running 10 to 25 points ahead of Sen. Sanders, WikiLeaks emails also show the campaign knew they were likely going to lose.
An earlier email indicated Brazile also gave the Clinton campaign a death penalty question before a CNN-hosted town hall event later that same month. That exchange began with Brazile sending Palmieri the text of the question with the subject line: "From time to time I get the questions in advance."
After Palmieri responded, Brazile wrote back: "I'll send a few more."
TV One host and moderator Roland Martin asked the exact same death penalty question–verbatim–the next night. Meanwhile, on Monday night, CNN issued a statement claiming the network was "completely uncomfortable" with Brazile's actions and "accepted" her resignation in mid-October, without making it public.
"On October 14th, CNN accepted Donna Brazile's resignation as a CNN contributor," CNN spokeswoman Lauren Pratapas said. "[Her deal had previously been suspended in July when she became the interim head of the DNC.] CNN never gave Brazile access to any questions, prep material, attendee list, background information or meetings in advance of a town hall or debate. We are completely uncomfortable with what we have learned about her interactions with the Clinton campaign while she was a CNN contributor."