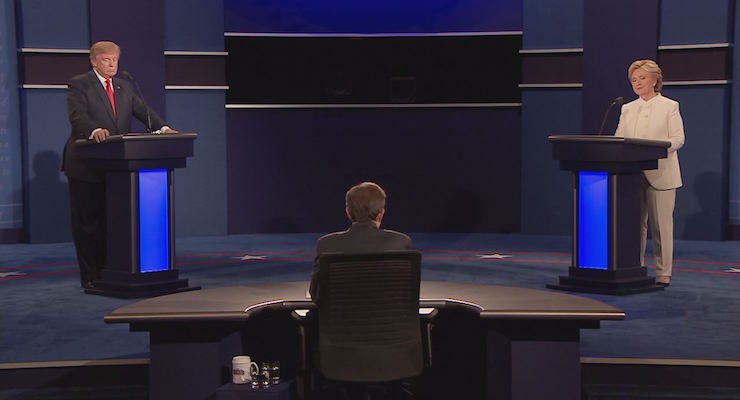 In what could be the most hypocritical move this election, Hillary Clinton on Saturday joined the recount effort in Wisconsin led by Green Party candidate Jill Stein. Following the third and final presidential debate, Clinton said even the thought of not accepting the results of the election is "a direct threat to our democracy."
"[Trump] refused to say that he would accept the results of our election," Clinton said during a rallies after the presidential debate in Las Vegas, Nevada. "Now, I have to admit, when we were both asked the questions, I assumed he would say what everybody else has always said, which is, 'Hey, of course.' You know, because to say you won't respect the results of the election — that is a direct threat to our democracy."
In a tweet the following day, she used this "threat to our democracy" to gin up supporters and in the never-ending narrative to paint her opponent as temperamentally unfit to serve.
Donald Trump refused to say that he'd respect the results of this election.

That's a direct threat to our democracy.

— Hillary Clinton (@HillaryClinton) October 24, 2016
Stein, who earned an abysmal 1.1% of the vote in Wisconsin, has been raising money and pushing a petition for a recount in the state, as well as Michigan and Pennsylvania. The Green Party candidate–though many believe under Clinton's direction and George Soros' funding–has also erroneously claimed "experts" found evidence of voting machine hacking, a claim the Obama administration has vehemently rejected.
"The people have spoken and the election is over, and as Hillary Clinton herself said on election night, in addition to her conceding by congratulating me, 'We must accept this result and then look to the future,' President-elect Trump said in a statement. "This recount is just a way for Jill Stein, who received less than one percent of the vote overall and wasn't even on the ballot in many states, to fill her coffers with money, most of which she will never even spend on this ridiculous recount."
In the Badger State, President-elect  Trump's victory was higher than the threshold set for a mandatory recount by state law and, in Pennsylvania, where Stein already missed the deadline, it was even higher. She will now ask a judge to order a recount. Clinton initially conceded and because of a lack of evidence opted against calling for a recount.
"Because we had not uncovered any actionable evidence of hacking or outside attempts to alter the voting technology, we had not planned to exercise this option ourselves," Clinton campaign lawyer Marc Elias wrote in a Medium Post, adding, "but now that a recount has been initiated in Wisconsin, we intend to participate in order to ensure the process proceeds in a manner that is fair to all sides."
The Election Integrity Project, which are behind Stein's accusations of hacking, was characterized as a discredited organization by Big Media outlets after they accused Clinton of stealing the nomination from Bernie Sanders. They said the disparity in performance county-by-county indicated she rigging voting machines, many of which produced by a company own by George Soros.
Meanwhile, the White House said this weekend that there was no unusual cyber activity or evidence to indicate hacking occurred on election night. The Obama administration said they believe the results reflect the will of the American people.
"This is a scam by the Green Party for an election that has already been conceded, and the results of this election should be respected instead of being challenged and abused, which is exactly what Jill Stein is doing," President-elect Trump added.
An Obama administration spokesman also insisted the president advised Clinton to concede on election night and now implores her to accept the outcome.