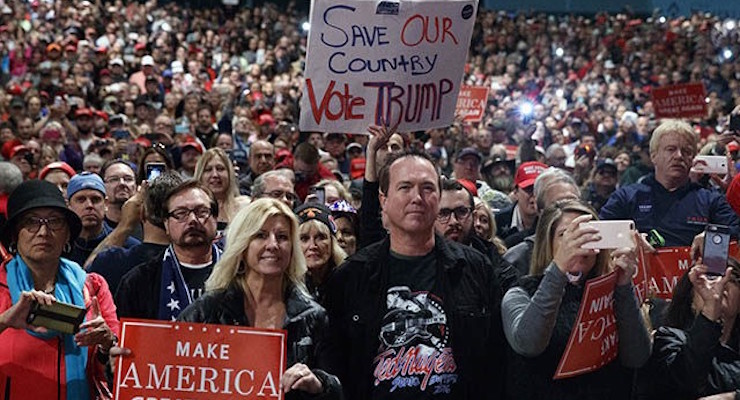 Michigan Attorney General Bill Schuette filed an emergency motion with the state Supreme Court "to stop Jill Stein's frivolous, expensive recount." The motion is an attempt bypass the Court of Appeals and ensure the state does not forfeit its electoral votes in the Electoral College. Stein is attempting to use hand recounts to miss state deadlines, which could result in forfeits in Michigan, Wisconsin and Pennsylvania.
Mich voters rejected @DrJillStein's candidacy and her refusal to accept verified results poses an expensive &a risky threat to MI taxpayers.

— A.G. Bill Schuette (@SchuetteOnDuty) December 2, 2016
I have filed an emergency motion with the Mich Supreme Court to bypass the Court of Appeals to ensure a timely process.

— A.G. Bill Schuette (@SchuetteOnDuty) December 2, 2016
On Thursday, a Wisconsin judge rejected a legal request to conduct a hand recount by Stein, citing no evidence or reason for why there should even be one. Dane County Circuit Judge Valerie Bailey-Rihn said the request, which was backed by Hillary Clinton and her campaign, failed to meet the state's legal standard for prohibiting the use of machines in the recount.
Most suspect the Clinton campaign is using Stein as a pawn, though there is not direct evidence they are funding the operation. However, Clinton sent out an email fundraiser claiming they need "all hands on deck" for a recount in Michigan.
The Republican Party of Wisconsin filed an FEC complaint Wednesday alleging Stein is allowing her campaign to be used as a front for Hillary Clinton's campaign in the recount effort. Stein denied the allegations, but even her own party is distancing themselves from her and her efforts.
"It is concerning that the Stein campaign would position itself to front and fund a recount attempt that only serves the interest of a desperate and defeated Clinton campaign," the complaint states. "Further, it is incredibly disturbing that given these asymmetrical interests, the Clinton campaign would readily begin organizing around the effort in order to capitalize on the chaos created by this attempt to undermine the integrity of Wisconsin's elections process."
The Wisconsin Republican Party also argued Stein's actions amount to a coordinated $3.5 million expenditure on behalf of the Clinton campaign, in excess of the $2,000 amount allowed by federal campaign donations laws. Stein, who has raised nearly $7 million (more than her entire campaign), also claims voting machines are illegal, something that has been laughed out of courtrooms.
Debbie Greenberger, the Stein campaign attorney, said she was not sure whether Stein would appeal.
Meanwhile, Clinton and her campaign initially stated they would not pursue a recount anywhere because "we had not uncovered any actionable evidence of hacking or outside attempts to alter the voting technology." That is still the case, as even the Obama administration has said that there was no evident of hacking and that the president believes the results reflect the will of the American people.
While stating that they support electoral reforms, the Green Party released a statement essentially calling the effort a waste of time and drew a line between them and Stein. In a statement on their website, they noted Stein's effort gives the appearance she is shilling for Clinton, particularly since the states that she chose to request a recount in are all states that Clinton lost to President-elect Donald J. Trump.
"There are significant electoral reforms needed to make elections more democratic and more representative of the people. While we support electoral reforms, including how the vote is counted, we do not support the current recount being undertaken by Jill Stein," the statement said. "However, we urge the GPUS to distance itself from any appearance of support for either Democrats or Republicans. We are well aware of the undemocratic actions taken during the primaries by the DNC and the Clinton campaign. Greens cannot be perceived to be allied with such a party."