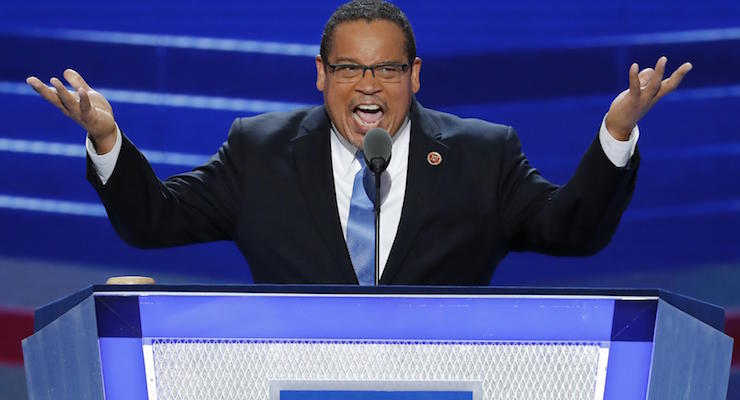 The Anti-Defamation League (ADL) has bailed on Rep. Keith Ellison, D-Minn., in his bid to be the new chair the Democratic National Committee (DNC). The leftwing group, which bills itself as an anti-bigotry organization, released a statement after new audio surfaced in which he made questionnable comments about the state of Israel.
The United States foreign policy in the Middle East is governed by what is good or bad through a country of 7 million people. A region of 350 million all turns on a country of 7 million. Does that make sense? Is that logic? Right? When the Americans who trace their roots back to those 350 million get involved, everything changes. Can I say that again?
Rep. Ellison went on to say "the Zionists joined with the Nazis in murdering Jews, so they would flee to Palestine" and the ADL called the statements "deeply disturbing and disqualifying."
"New information recently has come to light that raises serious concerns about whether Rep. Ellison faithfully could represent the Democratic Party's traditional support for a strong and secure Israel," ADL CEO Jonathan A. Greenblatt said in a statement. "His words imply that U.S. foreign policy is based on religiously or national origin-based special interests rather than simply on America's best interests. Additionally, whether intentional or not, his words raise the specter of age-old stereotypes about Jewish control of our government, a poisonous myth that may persist in parts of the world where intolerance thrives, but that has no place in open societies like the U.S."
In addition to his ties to the radical Nation of Islam and his defense of anti-Semitic leader Louis Farrakhan, Rep. Ellison once called Farrakhan a "role model" and Adolf Hitler a "great man."
"Minister Farrakhan is a role model for black youth," wrote Rep. Ellison in an Insight News op-ed in 1995. "He is not an anti-Semite."
It wasn't only time he took the position, either. Joanne Jackson, the then-executive director of The Minneapolis Initiative Against Racism, came under fire in 1997 for saying Jews are the most racist white people and that Farrakhan was a racist, Ellison defended her.
"She is correct about Minister Farrakhan," Ellison, who was known then as Keith Ellison-Muhammad. "He is not a racist. He is also not an anti-Semite."
Running to be the first Muslim elected to a position in the U.S. Congress, who was eventually sworn in on a Quran, he publicly renounced his association with the Nation of Islam in 2006. But it was only after it became a public campaign issue thanks only to local Republican bloggers who began publishing his old law school columns and photos connecting him to the organization.
"I have long since distanced myself from and rejected the Nation of Islam due to its propagation of bigoted and anti-Semitic ideas and statements, as well as other issues," Rep. Ellison wrote in 2006.
However, in a 1990 column uncovered by CNN, he defended Kwame Ture, also known as Stokely Carmichael, who had once claimed publicly that Zionists collaborated with the Nazis in World War II.
"Zionism must be destroyed," Ture said.
Rep. Ellison accused the university's president of chilling the free expression of black students by openly criticizing a controversial speaker invited to speak on campus by the Africana Student Cultural Center. He also once advocated for a separate nation for black Americans.
Incoming Minority Leader Chuck Schumer said he will continue to support Rep. Ellison for DNC chair. But after looking at the "totality of his record on key issues on our agenda," the ADL said they now have "serious doubts" about his ability to faithfully represent the party's traditional support for Israel.