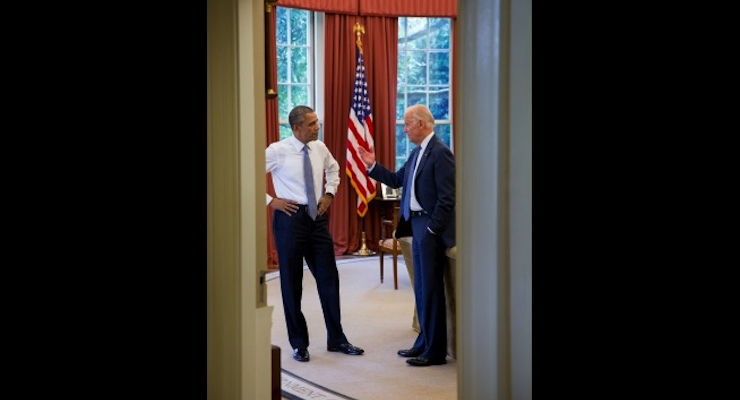 Only 27 days after Hillary Clinton's landslide defeat at the hands of President-elect Donald J. Trump, Vice President Joe Biden is mulling a run in 2020. Vice President Biden, 74, who was on Capitol Hill to preside over the U.S. Senate as it took on procedural measures to vote on a biomedical research bill he supports, told reporters he would make his third run in 4 years.
"I'm going to run in 2020," he told a group of reporters Monday evening. "So, uh, what the hell, man."
When asked to clarify if he was serious or joking, as is often needed with "Uncle Joe," the vice president paused for about four seconds and sighed before answering.
"Yeah, I am," Biden said. "Yeah, I am. We're going to run again."
But when pressed even further by reporters still trying to come to grips with the reality Mr. Trump won the election, Vice President Biden backed away a bit from his initial statement. But he left the door open.
"I'm not committing not to run. I learned a long time ago fate has a funny way of intervening."
The Democratic Party is fighting changes that some members recognize are necessary after they clearly lost touch with working class Americans. A Biden presidency candidacy, which would be his third, is a tempting prospect for some. Still, under his vice presidential tenure, the Democratic Party has been decimated electorally.
From 2008 to 2016, the Democrats lost a net 9 seats in the U.S. Senate, 63 in the U.S. House of Representatives, 13 governorships, 949 state legislative seats and full control of 29 state legislatures.
"After losing Pennsylvania for the first time since 1988, it makes sense for some Democrats to turn to Joe Biden for salvation," PPD's polling and election projection head Richard Baris said of the comment. "But if President-elect Donald Trump has a successful first term, I'm not sure anyone will be able to stop him."