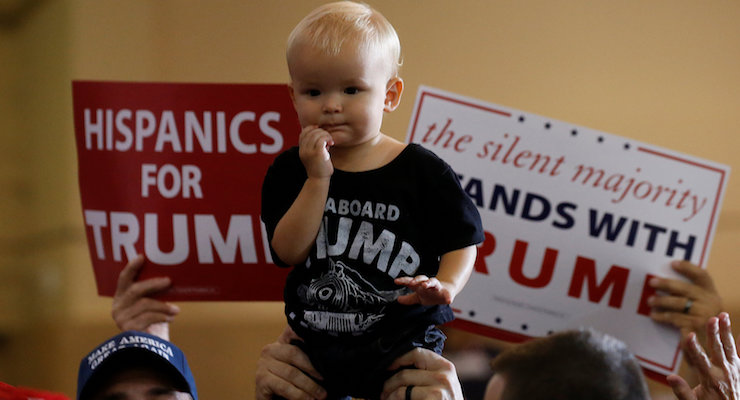 The defeat of Democrat Hillary Clinton at the hands of President-elect Donald J. Trump in Florida was predictable and baked in long before Election Day. Yet, the same know-nothing pundits who were wrong on every level in 2016 and stubbornly ignored objective data are still trying to pretend they know what they are talking about.
An article on the Tampa Bay Times, which cites "new data" from a Democratic consultant firm, claims Clinton led President-elect Trump "by nearly 250,000 votes from people who voted by mail or in person prior to Election Day."
"Trump just crushed Election Day," Democratic consultant Steve Schale, who ran President Barack Obama's 2008 Florida campaign told the Tampa Bay Times. "There is no other way to look at it."
Ugh. Here we go again. There is another way to look at it–the right way.
Schale, who made wildly inaccurate bias claims disguised as analysis before he was proven wrong, leaves out a large part of the story in an effort to save his reputation. Before you get tempted into thinking his past experience in Florida equals expertise, I'd caution you to not underestimate how strong of a candidate President Obama was in both 2008 and 2012.
Mr. Obama won Florida, twice, not Mr. Schale. He probably could've done so with Big Bird running his campaign.
The assertion that Clinton's loss "happened on Election Day" is misleading, simple-minded and simply inaccurate. As I warned readers repeatedly in the weeks leading up to November 8, and have in the past, analyzing the early vote can be "screwy" because it doesn't tell us anything about voting preference, just voting behavior. The reasons why were laid out marvelously by Sean Trende at RCP, but it's important to remember they are two different things.
What we can and did ascertain from the early vote was that Clinton was underperforming President Obama in the state of Florida and President-elect Trump was outperforming Gov. Mitt Romney. The claim that "Clinton's early vote lead was about 66 percent bigger than President Barack Obama's in 2012" is just flat-out wrong.
In 2012, after the final day of early voting, Republicans had cut Democrats' aggregate lead from 8 points in 2008 to 4 points. In total, Republicans cast 79,000 more absentee ballots than Democrats, but trailed in the in-person early vote (EV) by 247,000. The combined advantage for Democrats was roughly 168,000 partisan ballots.
On November 6, as we demonstrated that day, Democrats had cast roughly 102,000 more in-person early vote ballots than Republicans, or 1,461,358 to 1,359,284, which was about 140,000 fewer ballots than they did in 2012. Meanwhile, Republicans cast roughly 70,000 more absentee ballots than Democrats, or 1,043,583 to 974,135, which was slightly fewer but still roughly on par.
Democrats were gearing up to head into Election Day 2016 with a combined advantage of just 32,000, but ended up expanded their early vote advantage by about 80,000, leaving them still down significantly from 168,000 in 2012. When analyzing the data against the results of the PPD Sunshine State Battleground Poll, which tracked the presidential election on a weekly basis, Clinton's advantage was roughly 50% of the edge enjoyed by Mr. Obama in 2012.
"It was very clear that the Democrats were cannibalizing their Election Day vote," GOP chairman Blaise Ingoglia, a state representative from Spring Hill told the Tampa Bay Times.
But it wasn't at all clear to Schale, the media reports and other pollsters. Of course Mr. Trump won on Election Day. Republicans reliably vote in larger numbers on Election Day. But Clinton even squeezed more votes out of Broward County than President Obama did, though under more than a little suspicious conditions.
It just wasn't ever going to be enough. FLASHBACK:
@MarcACaputo @galt1776 @electionsmith @ElectProject @LarrySchweikart @floridaguy267 @PPDNews No I expect it'll be 86-88%, & still not enough

— Richard Baris (@Peoples_Pundit) November 6, 2016
In fact, Clinton never led in the PPD Sunshine State Battleground Poll, which had President-elect Trump up in the state by 2 points on the final day released November 6. With the exception of a Bloomberg Poll taken a week prior, PPD was the only pollster that found Clinton behind and certainly the only one who told our readers Trump was not only going to carry the lower-propensity independent vote but voters that previously backed Mr. Obama.
Schale was given adequate information to know this, but just chose not to acknowledge it and, as a result, he suffered what could've been a career-ending professional embarrassment.
Exhibit A: The tweet from my election night teammate explaining why and how the remaining likely voter demographics favored President-elect Trump.
What @steveschale doesn't tell you about the Florida vote!! Florida looking good @LarrySchweikart @FrankLuntz @mitchellvii #ImVotingBecause pic.twitter.com/tsz3PZA70d

— Deplorable Greg (@OBgynFl) November 8, 2016
Greg–who talked me off the cliff when we first received the bogus exit polls indicating whites were 60% of the electorate–was right. The PPD Poll had estimated the electorate to be 66% white, on average. The data backed up our analysis, the PPD Sunshine State Battleground Poll and, consequently, reality. Schale chose to ignore it and he misled people. Now, he's trying to do so again.
"Had the FBI director not chosen to insert himself into the campaign with a week to go, I suspect Clinton would have carried Pinellas (albeit very narrowly)," Schale "speculated" to TBT.
Again, this is speculation that we can say confidently is false. We know from our regional data analysis and polling that Clinton's loss in Pinellas County was predictable weeks before and did not hinge on FBI Director James Comey. This is another widely cited post-mortem claim rooted in falsehoods, cooked up by failed political consultants and pushed by members of a party unwilling to acknowledge why they lost–badly.
I'd strongly suggest he and others in his position lose the hubris, stop peddling phony analysis in an attempt to save their reputation, and start putting together a plan to earn back the public trust. They can start by telling the whole story because, whether they like it nor not, we're just not going to let Mr. Schale and others return to business as usual.
Hillary Clinton lost Florida and the 2016 presidential election not because some mysterious hidden force in the universe unexpectedly turned out more voters than was foreseeable before and on Election Day. She lost the election because she lost the argument. That happened way before Mr. Comey and certainly before November 8.
Anyone who followed PPD, unlike the rest of the world, wasn't surprised on election night.