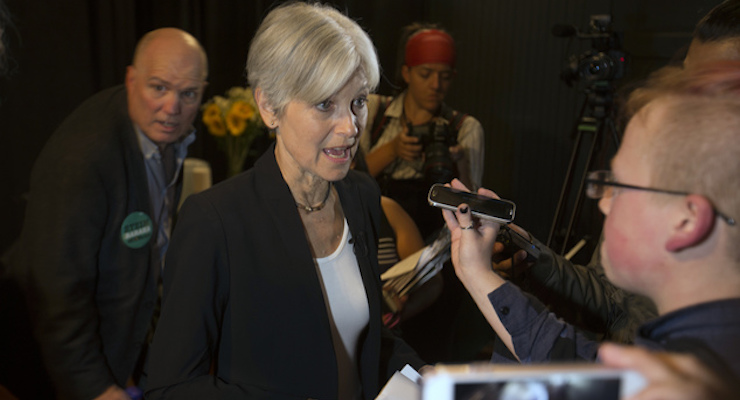 The recounts requested by Green Party candidate Jill Stein designed to delay the certification of statewide results in Wisconsin and Michigan are backfiring. In Wisconsin, President-elect Donald J. Trump is expanding his lead over Hillary Clinton and, in Michigan, the inability to reconcile voting tallies revealed what is likely to be fraud in Democratic counties.
Officials have been counting votes in The Badger State since last Thursday, when Stein paid $3.5 million for the recount after alleging fraud with no evidence. As of Wednesday morning, 23 of the state's 72 counties finished their recounts and President-elect Trump netted another 146 votes. In the completed counties, he gained 105 votes and Clinton lost 41 votes.
"We're not finding any problems with the machines," Reid Magney, a spokesperson for the Wisconsin Elections Commission, told FoxNews.com. "The Stein campaign wanted a recount because they thought there was some problems with our machines and that was not the case."
The New York businessman and future president actually performed better in the recount in Democratic counties than previously reported.
In Green Lake County, a suburban and rural area roughly 100 miles northwest of Milwaukee, the recount showed Mr. Trump with 6,216 votes, up 3 from 6,213, while Mrs. Clinton lost 8 votes to end up with 2,993.
The Republican Party of Wisconsin also filed a FEC complaint last Wednesday alleging Stein is allowing her campaign to be used as a front for the Clinton campaign recount. Stein denied the allegations, of course, but even her own party is distancing themselves from her and her efforts.
"It is concerning that the Stein campaign would position itself to front and fund a recount attempt that only serves the interest of a desperate and defeated Clinton campaign," the complaint stated. "Further, it is incredibly disturbing that given these asymmetrical interests, the Clinton campaign would readily begin organizing around the effort in order to capitalize on the chaos created by this attempt to undermine the integrity of Wisconsin's elections process."
The Wisconsin Republican Party argued Stein's actions amount to a coordinated $3.5 million expenditure on behalf of the Clinton campaign, in excess of the $2,000 amount allowed by federal campaign donations laws. Stein, who has raised nearly $7 million (more than her entire campaign), also claims voting machines are illegal, something that has been laughed out of courtrooms.
The counties yet to complete their recounts have until December 12 to finish in order for the state of Wisconsin to certify its results by the following day. Stein and Clinton are hoping to delay states certifying their results so that they do count when the Electoral College votes on December 19. The president-elect initially won the state by 22,000 votes, the first Republican to do so since 1984.
"The overall results will not change," Mr. Magney said. "It's two votes here, two votes there."
Meanwhile, in Michigan, the statewide hand recount of the 2.8 million ballots cast began on Monday, but is now on hold awaiting a hearing by a federal judge on Wednesday. The Stein-Clinton alliance had no choice but to ask a federal judge to order a recount after the Michigan appeals court ordered the state elections board to dismiss the recount petition. They found Stein had no standing and Clinton, who is not on the petition, is only using her as a front.
The state elections board also is meeting Wednesday. But the process has uncovered some irregularities, just not one that would likely benefit Mr. Trump. In Wayne County, a Democratic stronghold including Detroit, officials couldn't match vote totals for 610 of 1,680 precincts during a countywide canvas. The number of ballots in precinct poll records did not match those of voting machine printout reports in 392 of 662 precincts.
This would likely exclude the county from producing anymore votes for Clinton, as Michigan state law prohibits precincts whose poll records don't match with ballots from participating in recounts. The law is meant, among other things, to prevent ballot-stuffing, or the writing in of ballots belonging to voters who did not show up on Election Day.
Last week, Michigan Attorney General Bill Schuette filed an emergency motion with the state Supreme Court "to stop Jill Stein's frivolous, expensive recount." The motion was an attempt to bypass the Court of Appeals and ensure the state does not forfeit its electoral votes in the Electoral College.
President-elect Trump won The Great Lakes State by roughly 10,700 votes, the first Republican to do so since 1988.