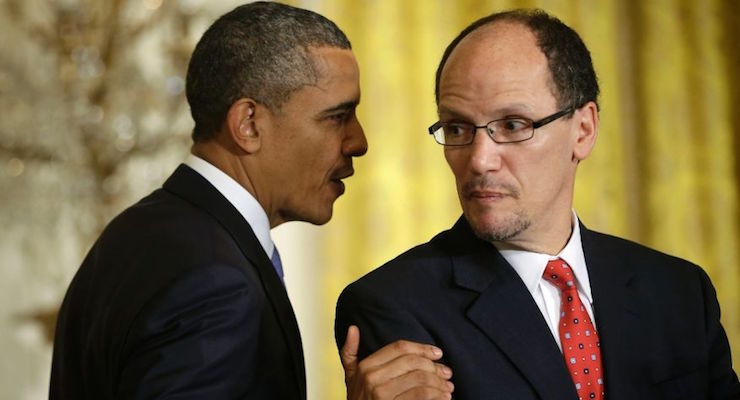 Behind closed doors, controversial Labor Secretary Thomas Perez indicated that he plans to announce he will run for the chairman of the Democratic National Committee (DNC). The party is looking to replace their disgraced interim chair Donna Brazile, who replaced Debbie Wasserman Schultz after she was forced to resign in disgrace, as well.
Enter Mr. Perez, a former Department of Justice (DOJ) assistant attorney general who came under a microscope after President Barack Obama announced his nomination for secretary of the Labor Department. Before his confirmation, an inspector general report concluded the department was grossly mismanaged, career attorneys were abused and intimidated by and under Mr. Perez.
The report also revealed threats made toward black employees who were willing to work on cases like the New Black Panther voter intimidation case, as well as another case in Mississipp. All involved civil rights violators and perpetrators who were black and white victims. In one such case, Attorney General Loretta King complained to then-Attorney General Eric Holder over Voting Section Chief Chris Coates, who was willing to use civil rights laws to protect white voters.
Mr. Perez got the order to "take care" of Mr. King.
The controversy over the voting rights case wasn't even the first time Mr. Perez found himself in political hot water. He was caught abusing his power during a secret quid-pro-quo deal in 2011 with the city of St. Paul, Minnesota. He later perjured himself when he told Congress that the DOJ agreed not to intervene in two whistle-blower cases against St. Paul–in exchange for the city dropping its Supreme Court petition–because the cases were "weak."
However, emails obtained after the Mr. Perez gave his congressional testimony clearly demonstrated career lawyers at DOJ believed those cases were strong.
Nevertheless, the post has to be filled by someone, as a series of leaked documents published by the anti-secrecy group WikiLeaks during the election showed interim Chair Brazile repeatedly helped Hillary Clinton cheat by providing debate questions to the campaign. Brazile replaced Wasserman Schultz as DNC chair after previous WikiLeaks emails revealed an anti-Sanders bias at the DNC during the primary.
Now, the Democratic Party, which now holds the weakest electoral position across nation since the 1920s, is looking to overhaul their image and brand after they suffered a devastating defeat up and down the ticket in November.
That effort thus far has proven difficult. Rep. Keith Ellison, D-Minn., the first Muslim lawmaker elected to the U.S. Congress, was considered the frontrunner and received the backing of several big names in leadership and grassroots, such as incoming Minority Leader Chuck Schumer, D-N.Y., and independent Democratic-socialist Bernie Sanders, I-Vt., respectively. But after new audio surfaced, in which he made controversial comments about the state of Israel, the Anti-Defamation League (ADL) bailed on his bid.
Rep. Ellison, who also has ties to the radical Nation of Islam and defended its anti-Semitic leader Louis Farrakhan, went on to say "the Zionists joined with the Nazis in murdering Jews, so they would flee to Palestine." The ADL called the statements "deeply disturbing and disqualifying."
"Whoever wins the DNC chair race faces a lot of work, travel, planning and resource raising," Rep. Ellison said in a statement. "I will be `all in' to meet the challenge."
Nancy Pelosi, D-Calif., was also re-elected to an eighth term as the leader of House Democrats, despite a challenge from Ohio Rep. Tim Ryan. The challenger argued that his party, under the stewardship of Leader Pelosi, had lost touch with working class American voters. In Rep. Ryan's home state, Democratic presidential nominee Hillary Clinton was defeated by President-elect Donald J. Trump by almost double-digits, 52.1% to 43.5%.
It was the first time a Republican managed to carry the battleground state since 2004 and the largest margin since 1988. George W. Bush won it over John Kerry in 2004 by only 2 points. But this time, hundreds of thousands of voters who backed President Obama in both 2008 and 2012 voted for President-elect Trump over Clinton and incumbent Sen. Rob Portman over Clinton-ally and Democrat Ted Strickland.
But the numbers don't lie and they aren't confined to the House of Representatives. From 2008 to 2016, the Democratic Party has lost a net 9 seats in the U.S. Senate, 63 in the U.S. House of Representatives, 13 governorships, 949 state legislative seats and full control of 29 state legislatures.
The net 63-seat loss in the House under Pelosi tops the closest presidential tenure during the Nixon-Ford era by 14 seats. In other words, Democrats under President Obama underperformed their party's candidates during Bill Clinton's impeachment in the 1990s and their rival GOP candidates during and after the WaterGate scandal.
Party officials tried to draft Vice President Joe Biden and former Michigan Gov. Jennifer Granholm, but both Rust-Belters turned-D.C.-ites refused to seize the opportunity.
Yet, despite the effort by members who are forced to defend working-class districts in 2018, House Democrats largely filled the top leadership roles with East and West coast liberals. Not a single one is from the heartland or the Rust Belt.
"He is a leader whose character and visions are a strong addition to the conversation around where Democrats need to head," said Henry Munoz, the DNC Finance Chairman. While noting his semi-Rust Belt childhood in Buffalo, he stressed Mr. Perez's Dominican-American background and the role Latinos must play in the future of the party.