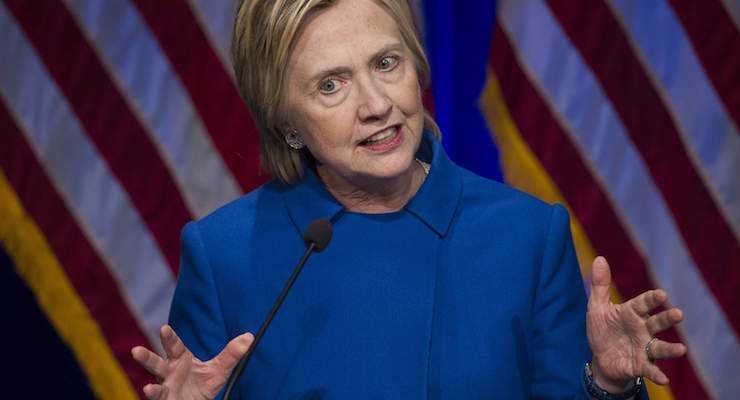 When political scientists and psephologists look back at presidential elections, news events are not thought to be a typical determining factor in the outcome. Election 2016 is not and will not be any different if Big Data is used as the standard in future analysis.
President-elect Donald J. Trump defeated Hillary Clinton because of the fundamentals of the race, not because of any items on the growing list of 'Why Clinton Lost' excuses. Obviously, Big Media would disagree.
The Clinton-friendly mainstream media–who have been on a non-stop emotional pendulum since November 8, swinging back-and-forth from disbelief to anger–have parroted one excuse after another.
Almost immediately after her defeat to President-elect Trump, Mrs. Clinton and her campaign began to assign blame to everyone except the former secretary of state and her consultants. First, during a call with top donors and supporters, Mrs. Clinton herself blamed FBI Director James Comey, President Barack Obama and sexism. She regurgitated one excuse after another outlined in an internal post-mortem letter by Navin Nayak, the head of opinion research at the Clinton campaign.
Mr. Nayak cited now-debunked data from exit polls and pre-election media polling to argue that there "is no question that a week from Election Day, Sec. Clinton was poised for a historic win."
She coupled Director Comey's letter with the "unprecedented task of electing the first woman to the highest office in the land (code for sexism)" to explain the loss.
"We believe that we lost this election in the last week. Comey's letter in the last 11 days of the election both helped depress our turnout and also drove away some of our critical support among college-educated white voters—particularly in the suburbs," she stated in the letter. "We also think Comey's 2nd letter, which was intended to absolve Sec. Clinton, actually helped to bolster Trump's turnout."
The now-embarrassed leftwing election forecaster Nate Silver has even helped to perpetuate the erroneous claim that Mrs. Clinton would be president-elect if not for Director Comey. But it was more an attempt to justify his incompetence than it was an attempt to explain what really happened before November 8. Seeing as how he couldn't make sense of what happened before November 8, I'm not at all surprised by his recent tweet.
I'll put it like this: Clinton would almost certainly be President-elect if the election had been held on Oct. 27 (day before Comey letter).

— Nate Silver (@NateSilver538) December 11, 2016
Perhaps Mr. Silver, whom I told you was a glorified poll reader, should've waited to hear a few more talking points before settling on Director Comey. The Clinton campaign even blamed "Global forces" for "driving deep-seated anger at institutions," rather than the economic impact of globalization or the actions of these unnamed institutions.
Now, they are blaming Russia. After a few weeks of intentionally and falsely insinuating voting totals were changed, they've settled on influencing the election by hacking and revealing communications only from Democratic sources.
The truth is that Big Data simply won't support these false assertions. If we want to scrutinize the accuracy of these insane excuses, then it only makes sense to reference the results of the outlet that put forward the most accurate data. While the outcome of the presidential election was a shock to most of the political and media establishments–not to mention those who hang on their every word–it wasn't to our readers.
The People's Pundit Daily (PPD) U.S. Presidential Election Daily Tracking Poll and PPD Battleground State Polls were the most accurate surveys in 2016, and it wasn't even close. So, let's get down to it.
President-elect Trump didn't break Ronald Reagan's 1984 record among working class voters and flip blue states in the Rust Belt because of WikiLeaks. He did it against all odds and the world because he was their voice against an elitist class whom Mrs. Clinton embodied.
We did see significant movement to Mr. Trump in certain battleground states in the closing days, but support for him actually declined for several days after Wikileaks began to dump Clinton campaign chair John Podesta's emails. The reality is that President-elect Trump was ahead of Mrs. Clinton more than he was behind in our national and battleground state tracking polls, with her largest leads springing up during periods where he was down–i.e. the Access Hollywood tape.
On October 23, the day Silver says would've meant a win for Mrs. Clinton, she trailed Mr. Trump by a little less than a point. On October 24, she began to take a slight less than 1-point lead over Mr. Trump due solely to a temporary increase in voter enthusiasm, not a significant increase in support among mind-changers.
The fact late-deciders broke for Mr. Trump hard over Mrs. Clinton is not evidence of damage done by the director's letter, but rather the result of simple consolidation by a candidate recently passing the presidential bar. I've long told readers and interviewers that Mrs. Clinton had more structural and fundamental deficits baked in the electoral cake from the beginning. He had two main challenges to meet in order to win and, much to the dismay of his detractors, he met them.
Passing the Presidential Bar
The movement toward then-GOP nominee Trump really began following the third debate on October 19 in Las Vegas, which was more pronounced in the battleground states than on the national level. He had lost much of his lead following the release of the Access Hollywood tape and voters unhappy with the alternatives were still willing to give him a chance to pass the bar. Despite the incessant clamoring in the media about his comment regarding whether he would accept the elect results or not, they believed he passed that bar during what was his second strong performance.
Building a Working Class Coalition & Holding the Suburban Vote
The PPD U.S. Presidential Election Daily Tracking Poll did find Mr. Trump with a deficit among suburban white women, particularly those with a college-degree. It just wasn't nearly as severe as Big Media pollsters suggested. Mr. Trump's challenge, which I repeated on PPD and during interviews more times than I can remember, was always whether he could hold on to GOP and GOP-leaning suburban voters while adding a new working class coalition.
In the end, he did and that's what ultimately decided both the outcome of the election and Mrs. Clinton's fate.
Democrats certainly didn't help themselves by nominating a flawed, untrustworthy candidate under two criminal FBI probes. But for the most part, voters make rational policy choices at the ballot box and Mr. Trump's populist platform appealed to voters–both minority and white –who are typically counted among ranks of the Democratic Party's base. His appeal was attitudinal, not ideological and that's how and why he broke the Blue Wall.
The entire ruling political class, Wall Street and their corrupted media sycophants couldn't drag Mrs. Clinton over the finish line because she didn't have a message to working class Americans. Just for fun and games we put up a piece entitled, Two Lines That Won Donald J. Trump the Presidency.
It was meant to be fun, but not a joke. The two lines were "I am your voice" and "drain the swamp." It's worth noting that "global forces" as it relates to the powerful status quo were working against President-elect Trump. Even if Russia was the source of the WikiLeaks revelations and did so to help President-elect Trump, they were the only ones acting on his behalf. That's very much how the "forgotten" working men and women felt this election, and have for quite some time. No one spoke for them, that is, until President-elect Trump.
Democrats and mediates were in such a state of shock on election night because they really believed they had the numbers. After decades of using immigration and government dependency to change the nature of the American electorate, they felt they could ignore and shame everyday Americans in Middle America. With each new and recycled excuse, Big Media and Democrats are demonstrating that they still have not heard them.