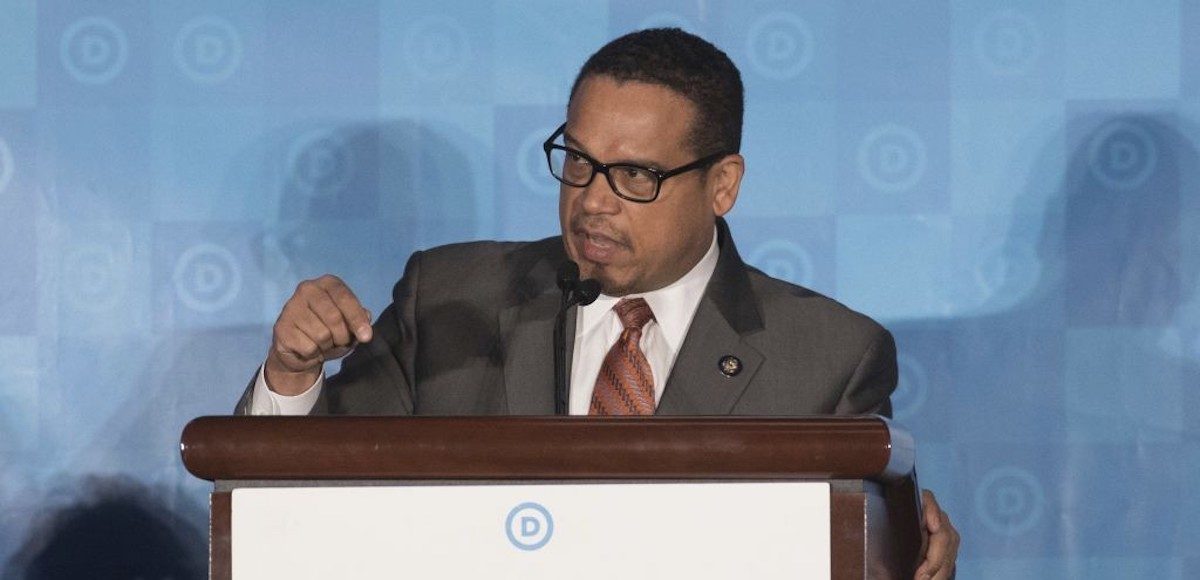 Representative Keith Ellison, D-Minn., the deputy chairman of the Democratic National Committee (DNC), is expected to run for Minnesota attorney general. The last-minute entrance into the crowded race is anticipated on Tuesday, according to multiple sources.
"I will make a decision tomorrow because it's the filling deadline," Rep. Ellison told the leftwing website Politico.
With the decision, Rep. Ellison will be one of dozens of candidates for attorney general funded by Nazi sympathizer and billionaire socialist George Soros. The radical financier has been engaged in an effort to win statewide attorney general races since President Donald Trump took office, and he has met with the congressman to discuss strategy.
The decision raises several questions surrounding the Democratic Party's electoral changes in November. His exit from the DNC would leave the far-left wing party all but voiceless at a time when Chairman Tom Perez continues to intrude and interfere with primaries to benefit establishment candidates.
It is no secret Rep. Ellison has grown increasingly frustrated with being in the minority. His decision insinuates he is no longer as bullish on the Democratic Party's chances to reclaim control of the U.S. House of Representatives.
But it also allows him to skate on the recent controversy surrounding his support for antisemitism. That antisemitic history derailed his bid for DNC chairman last year.
The Anti-Defamation League (ADL), which originally backed him over Mr. Perez, bailed on his bid to be the new DNC chair after never-before heard audio surfaced in which he made controversial comments about the state of Israel. Worth noting, big name Democrats in the U.S. House and Senate did not abandon him, nor did the party's base.
The Minnesota congressman has repeatedly denied having any membership in or relationship with the Nation of Islam or it's leader, Minister Louis Farrakhan, despite widespread reports to the contrary. In the past, Rep. Ellison has defended the racist and antisemitic leader, whom he once called a "role model."
Minister Farrakhan recently confirmed Deputy Chair Ellison was in fact a member of the antisemitic group. In a video first obtained by Wired Sources, the controversial and radical religious leader said Rep. Ellison only left the Nation of Islam before he wanted to run for office.
"Keith Ellison… You ain't got a picture of Keith? Well, let me talk about him. Now Keith was in the Nation in 1995," Mr. Farrakhan said during a keynote address in February, which drew responses of "that's right!" from the crowd. "He was selling the Final Call newspaper. Beautiful brother. And, being in Minnesota, he wants to help his community. He's a lawyer, so he wants to help his community. So, he wants to be a congressman."
The Final Call is a newspaper published in Chicago. It was founded in 1979 by Minister Louis Farrakhan and serves as the official newspaper of the Nation of Islam. It is also the official communications, or propaganda organ of the Nation of Islam, used to recruit young college students.
Meanwhile, the race for attorney general in Minnesota could field as many as five opponents. However, none of them will have the level of financial support as Mr. Ellison or donors with pockets as deep as Mr. Soros.