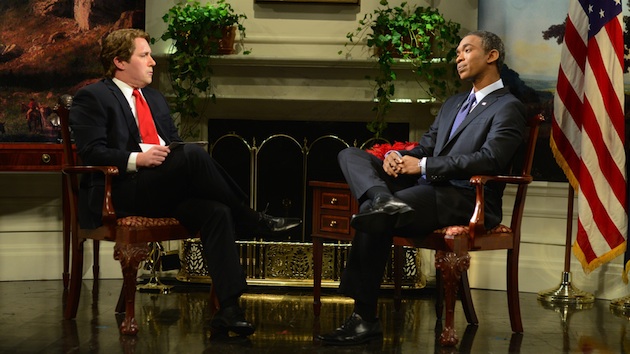 Saturday Night Live mocked President Obama for blaming social media and U.S. intelligence for ISIS' rise in a SNL parody of his "60 Minutes" interview. Last week, President Obama was interviewed by his favorite interviewer, Steve Kroft, during which he blamed the intelligence agencies for the administration's mismanagement of Iraq and Syria.
The interview resulted in significant pushback from members of the U.S. intelligence community and the media.
The week also featured the president's former defense secretary, Leon Panetta, who also appeared on "60 Minutes" in a not-so favorable interview to Obama two weeks prior. Panetta's new memoir laid blame at the feet of the Obama administration, who he charged overruled the Defense Department, State Department and military advisors on Iraq for politically motivated ends.
In his upcoming memoir, Worthy Fights, to be published on October 7, 2014, Panetta writes that President Obama's failing to secure a 2011 deal that would've left U.S. troops in Iraq was a case of intentional sabotage, leaving the Iraqi people at the mercy of the Islamic State.
Panetta wrote that members of the intelligence, defense and state departments "viewed the White House as so eager to rid itself of Iraq that it was willing to withdraw rather than lock in arrangements that would preserve our influence and interests."