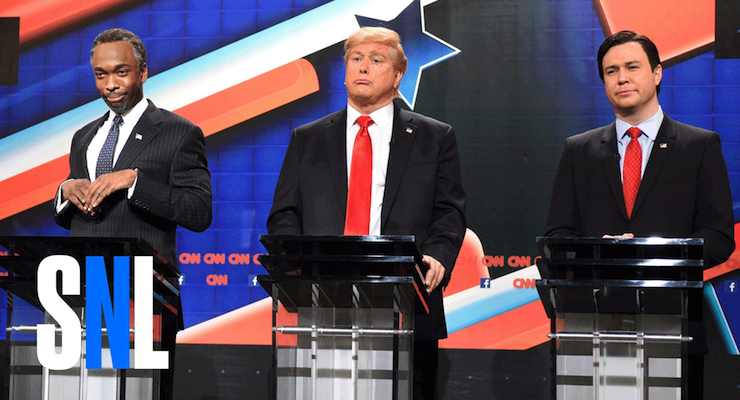 [brid video="22929″ player="2077″ title="GOP Debate Cold Open SNL"]
Saturday Night Live (SNL) ripped the fifth Republican debate hosted by CNN in Las Vegas during their cold open, emphasizing the exchange between frontrunner Donald Trump and Gov. Jeb Bush.
"Mr. Bush, go ahead and say out loud what you've been quietly muttering to yourself," says "Wolf Blitzer."
"Trump! I mean. This guy's the chaos candidate," shouts Beck Bennett, who is doing the Jeb Bush impression. "Am I right? The Chaos! Is he even real? Nah, man."
"Jeb's a very nice man," responds Darrell Hammond, who is playing Trump. "But he is basically a little girl. Folks this is true, I got a hold of Jeb's birth certificate, full disclosure, his real name is Jeborah."
"That's not true!" firing back "Jeb."
"Jeborah, Jeborah, Jeborah," taunts the chaos candidate.
"Hey, that's not my name."
"Yeah? Jeborah, losers say what?"
"What? Oh Dang it. No!"
Donald Trump (Darrell Hammond), Sen. Ted Cruz (Taran Killam), Dr. Ben Carson (Jay Pharoah), Sen. Marco Rubio (Pete Davidson), Gov. Jeb Bush (Beck Bennett), Carly Fiorina (Cecily Strong), Sen. Rand Paul (Kyle Mooney) and Gov. Chris Christie (Bobby Moynihan) debate in Las Vegas.