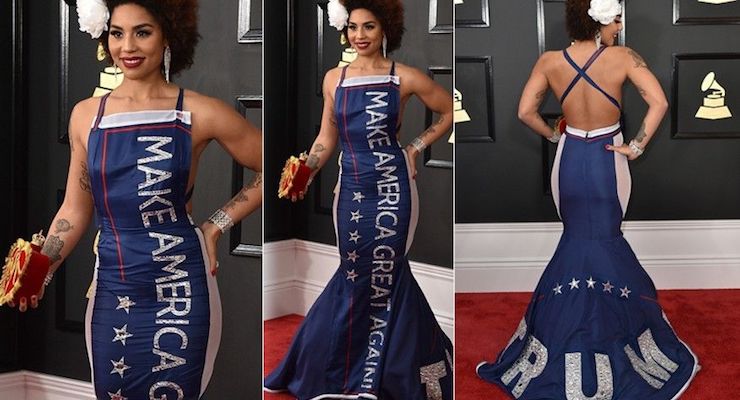 At the 59th Annual Grammy Awards Sunday, singer Joy Villa proudly rocked a red, white and blue gown displaying "Make America Great Again" with "Trump" in sparkly letters on the back hem. The dress was designed by an immigrant to the U.S., who supports President Donald J. Trump.
Ms. Villa, 25, who was not nominated for an award, stunned the anti-Trump attendees at the event. She explained her controversial getup on Instagram.
"Go big, or go home. You can either stand for what you believe or fall for what you don't. Above all make a choice for tolerance and love. Agree to disagree," she wrote after her red carpet appearance.
Andre Soriano, the designer of the dress, said on Facebook and Instagram that the gown is a "tribute [to] OUR President Of The United States Of America," adding the hashtag #MAGA. Mr. Soriano revealed that the inspiration from the dress came from Madonna talking about blowing up the White House during a so-called "women's" march organized by Linda Sarsour, a radical Islamist.
Villa, who is now getting death threats from angry liberals, quickly received support from fans and Trump supporters, as well as a YUGE increase in online sales. "I Make the Static" shot up and is now sitting at number seven on the iTunes top album chart.